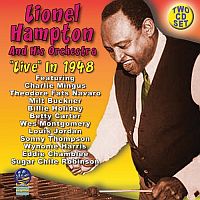 Sounds of Yester Year BSIN04357487 (2 CD-Set)
Hampton, Lionel - Live in 1948 (2 CD-Set)
Our Special offer until September 30, 2021 – only EUR 12,90
(regular price: EUR 18,90)!
This double CD documents recordings off the air from the Mutual Broadcasting System (MBS) of the U.S. Treasury Department Shows to promote Security Bonds, from various venues around the U.S.A.
These recordings feature a strong line-up which changes slightly as the band moves from venue to venue. Featured artists include: Fats Navarro, Teddy Buckner, Billy Wil...
more
Price: 12,90 EUR