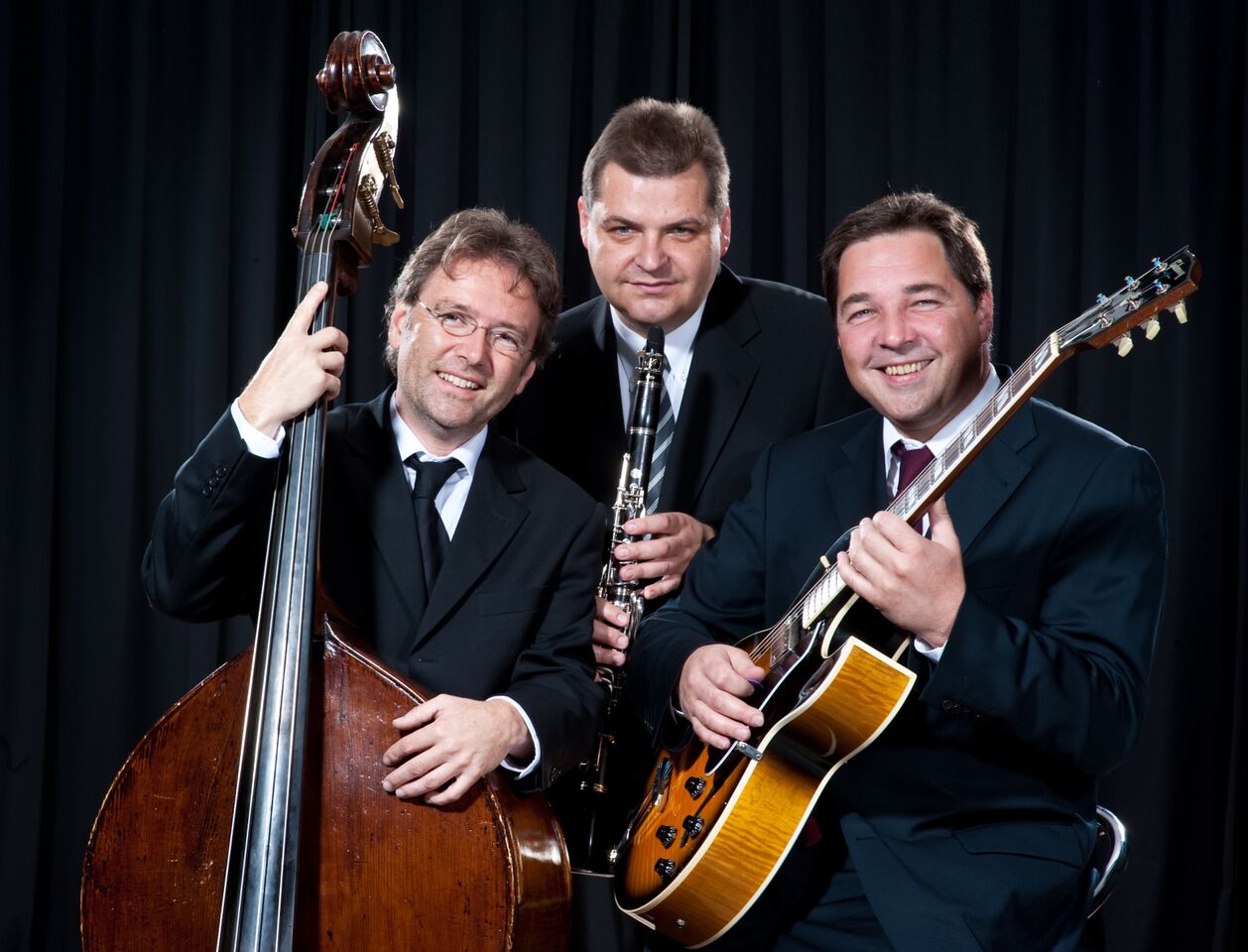 Swobodas Swing Trio © H. Swoboda
JAZZ beim Thurn in Ober St. Veit
Swobodas Swing Trio
Springtime is Swingtime
Herbert Swoboda (Klarinette), Martin Spitzer (Gitarre), Martin Treml (Bass)

Mit lebendigen Arrangements bekannter Kompositionen der Swingära begrüßt Swobodas Swing Trio den Frühling. Diese kammermusikalische Formation des Klarinettisten Herbert Swoboda interpretiert virtuos berühmte Swingstandards von George Gershwin, Irving Berlin, Cole Porter, Fats Waller und vielen anderen, aber auch lateinamerikanische Rhythmen finden sich im Repertoire.
Seit vielen Jahren arbeiten die etablierten Musiker der Wiener Jazzszene in diesem Trio in bewährter Weise zusammen.
Veranstaltung:
JAZZ beim Thurn in Ober St. Veit
Swobodas Swing Trio
Springtime is Swingtime
Dienstag, 13. März 2018, 19.30 Uhr
THURN Heurigenrestaurant
Thurnsalon
1130 Wien, Firmiangasse 8
Eintritt: EUR 18,00
Reservierung unter: 0699/1152-0776 oder(
office@bocksmusicshop.at
)
Änderungen vorbehalten
CDs
Meltemi Music BSIN02593274

Swoboda, Herbert / Trio - Swobodas Swing Trio

Jazz als die amerikanische Kunstform hat in ihrer internationalen Verbreitung auch vor Simmering, dem 11, Wiener Gemeindebezirk, nicht halt gemacht. Hier kam Herbert Swoboda bereits in seiner Jugend mit swingendem Jazz in Berührung und entwickelte eine Begeisterung zu dieser Musikform, die ihn nicht mehr losließ. Mit Martin Spitzer und Martin Treml fand er ideale musikalische Partner zur Gründung eines Ensembles, das sich der Interpretation des Swingstils widmet.

Die Klassiker der Swing-Ära...

more

Price: 17,90 EUR

Mopromusic BSIN01724602

Swoboda, Herbert / Quintett - Gucky's Bounce

Featuring Herbert Swoboda (cl), Heribert Kohlich (p), Martin Spitzer (g), Martin Treml (b), Peter Gabis (dm).

Tracklisting:

1. Gucky's Bounce (4:33)

2. A Smooth One (8:08)

3. A Beautiful Friendship (6:04)

4. Redpoint Samba (4:16)

5. How Long Has This Been Goin' On (5:26)

6. Besame Mucho (5:16)

7. Strike Up The Band (4:22)

8. I Wish You Love (5:34)

9. Menina Flor (5:03)

10. Mood Indigo (4:54)

11. Stardust (5:17)

Release...

more

Price: 17,90 EUR
Please call us for further information and bookings.
Dieter Bock
BOCK'S MUSIC SHOP