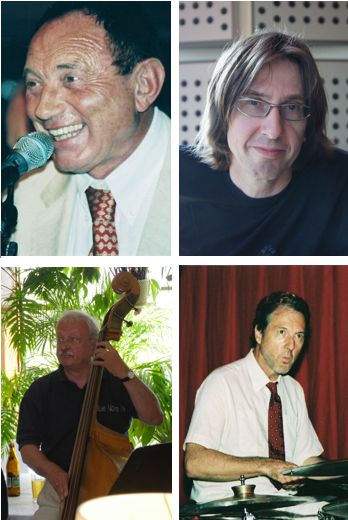 The Jive Masters © D. Bock
JAZZ beim Thurn in Ober St. Veit
The Jive Masters
Jive, Swing and Rhythm & Blues
Ernst Schuller (Gesang), Uli Datler (Klavier), Peter Rath (Bass) und Peter Grüneis (Schlagzeug)
Die Jive Masters mit ihrem Sänger Ernst Schuller präsentieren swingende Rhythmen und berühmte Jazzstandards aus den 1930er bis 1950er Jahren von Louis Armstrong, Nat King Cole, Louis Jordan, Louis Prima, Frank Sinatra u.v.a.
Ein genußreicher und swingender Abend bei frischgezapftem Murauer Bier, gepflegten Weinen und köstlichen Speisen ist garantiert.
Veranstaltung:
JAZZ beim Thurn in Ober St. Veit
The Jive Masters
Jive, Swing and Rhythm & Blues
Dienstag, 28. März 2017, 19.30 Uhr
THURN Heurigenrestaurant
Thurnsalon
1130 Wien, Firmiangasse 8
Eintritt: EUR 18,00
Reservierung unter: 01/877-89-58 oder(
office@bocksmusicshop.at
)
Änderungen vorbehalten
Please call us for further informations and bookings.
Dieter Bock
BOCK'S MUSIC SHOP