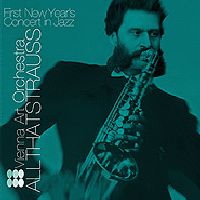 TCB BSIN02613218
Vienna Art Orchestra - All That Strauss
Vienna Art Orchestra - All That Strauß
First New Year's Concert in Jazz
Musicians:
Anna Lauvergnac (voice), Thorsten Benkenstein, Matthieu Michel, Bumi Fian, Rudi Pilz (trumpets), Klaus Dickbauer, Florian Bramböck, Andy Scherrer, Herwig Gradischnig, Harry Sokal, Heinrich von Kalnein (reeds), Robert Bachner, Charly Wagner, Christian Radovan (trombones), Arkady Shilkloper (french-horn), Alegre Correa (guitar), Georg Breinschmid (bass), Mario Gonzi (drums), Ingrid Oberkanins (percussions), Mathias Rüegg (leader).
Tracklisting:
1. Wein ,Weib und Gesang (Johann Strauss)
2. Process-Polka (Johann Strauss)
3. Ein Morgen, ein Mittag, ein Abend in Wien (Franz v. Suppé)
4. Mit Extrapost (Eduard Strauss)
5. Albion-Polka (Johann Strauss)
6. Gruss aus Prag (Eduard Strauss)
7. Lagunen-Walzer (Johann Strauss)
8. Persischer Marsch (Johann Strauss), special guest: Michel Portal
9. Hellenen Polka (Johann Strauss)
10. Marienklänge Walzer (Josef Strauss), special guest: Bertl Mayer
11. Eljen a Magyar! (Johann Strauss)
12. Czardas (Johann Strauss)
13. Donauwalzer (Johann Strauss), special guest: Wolfgang Puschnig
All arrangemets by M. Rüegg except for "Hellenen Polka" arr. by Georg Breinschmid.
Recorded live at the "Sofiensäle", Vienna on January 1st 2000 by Jürg Peterhans under the supervision Ed Partyka.
Mixed and mastered at Studio Powerplay, Zürich by Jürg Peterhans and Heinrich von Kalnein January 2-5 2000.
Price: 18,90 EUR