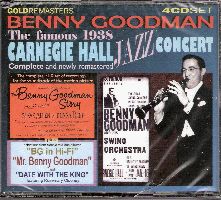 Avid BSIN02532888 (4 CD-Set)
Goodman, Benny - The Complete Famous Carnegie Hall Jazz Concert Plus 1950s Material (4 CD-Set)
Benny Goodman – The complete famous 1938 Carnegie Hall Jazz Concert plus other classic material from 1954-1955.
A new remastering of the truly legendary 1938 Benny Goodman Carnegie Hall Concert in stunning sound quality for a recording of this vintage, helped no little by the wonderful acoustics of the theatre: sections that remained unissued for over 50 years are here.
In addition, new remasterings of classic mid-50s albums in great sound including, for the first time on CD, the complete set of recordings for the soundtrack of the film "The Benny Goodman Story" and a scarce 10" LP "Date With The King".
SIDEMEN INCLUDE: Stan Getz, Buck Clayton, Urbie Green, Charlie Shavers, Ruby Braff, Dick Hyman, Harry James, Mel Powell, Teddy Wilson, Claude Thornhill, Lionel Hampton, Gene Krupa, Jo Jones.
48 Big Band tracks, 27 Small Group tracks, 7 Special Feature tracks & a long All-Star Jam Session.
Total playing times:
CD 1: 78:44
CD 2: 78:22
CD 3: 76:51
CD 4: 77:00.
Price: 27,90 EUR