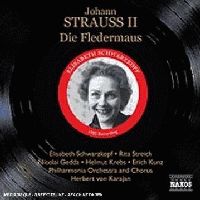 Naxos Historical BSIN02149520 (2 CD-Set)
Karajan / Schwarzkopf / Gedda + - Die Fledermaus (GA) (1955) (2 CD-Set)
Composer: Johann Strauss
Operetta in 3 Acts (Libretto by Haffner and GenÚe) from a French comedy, Le RÚveillon, by Meilhac and HalÚvy
Gabriel von Eisenstein - Nicolai Gedda (tenor), Rosalinde - Elisabeth Schwarzkopf (soprano), Alfred - Helmut Krebs (tenor), Adele - Rita Streich (soprano), Frank - Karl D÷nch (baritone), Dr. Falke - Erich Kunz (baritone), Prince Orlofsky - Rudolf Christ (tenor), Dr. Blind - Erich Majkut (tenor), Speaking parts: Frosch - Franz B÷heim, Ida - Luise Martini, Philharmonia Orchestra and Chorus, Herbert von Karajan, conductor.
Recorded 26th-30th April, 1955 in Kingsway Hall, London.
Price: 13,90 EUR