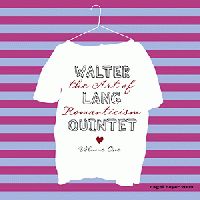 Nagel Heyer BSIN02130407
Lang, Walter / Quintet - The Art Of Romanticism, Vol. 1
Walter Lang (piano), Peter Tuscher (trumpet, flugelhorn), Ekkehard Rössle (saxophones ), Henning Sieverts (bass ), Rick Hollander (drums )
Tracklisting:
1. Im Wunderschönen Monat Mai (Robert Schumann)
2. Springbirds (Walter Lang Jun.)
3. Sing This Song (Walter Lang Jun.)
4. Gute Nacht (Franz Schubert)
5. Father & Son (Walter Lang Jun.)
6. Michas Moods (Walter Lang Jun.)
7. Simon (Walter Lang Jun.)
8. No Outono Da Noite (Walter Lang Jun.)
9. Der Wegweiser (Robert Schumann)
Recorded at Pirouet Studio Munich, July 2005.

The Art Of Romanticism Vol. 1' keeps you warm and cosy when it's dark and freezing outside. Wonderful melodies are embracing you. Walter Lang is surely one of the most lyrical piano players in today's jazz world.
"His lovely compositions can easily compare with some of today's jazz standards: You immediately like them when you hear them first. They entertain – but have depth, too." (Fono Forum )
"This ensemble is phenomenal!" (Süddeutsche Zeitung)
"A jazz experience for the ambitious romantic in you." (AZ)
For more than 10 years Walter Lang has been part of the Munich jazz scene and worked with, among others, Johannes Herrlich's Collage, the Jason Seizer Quartet and the Harald Rueschenbaum Quintet. In 1997 Walter received 'Artist Of The Year' by the town of Gersthofen, Germany.
Walter had the fortune of becoming a founding member of the Rick Hollander Quartet, a group which has enjoyed countless tours of Europe, Japan and America. The group's 5 CD's all feature Walter's trademark piano playing. With the Rick Hollander Quartet he won the 'Europ' Jazz Contest' 1990 in Hoeilaart, Belgium.
His activity as a freelance pianist has brought him together with, among others, Lee Konitz, James Moody, Chico Freeman and Don Menza.
Price: 15,90 EUR