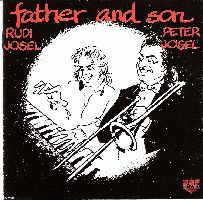 SBF BSIN02055894
Josel, Rudi / Josel, Peter - Father And Son
Rudi Josel was born on January 24th, 1939 in Graz.
He studied piano, cello and trombone at the Academy of Music, Graz. From 1957 he was a member of the "Grazer Philharmonic Orchestra". In 1964 he became first trombonist with the "Wien er Staatsoper Orchestra".
Since 1965 first trombonist with the "Vienna Philharmonic Orchestra". In addition he formed his own "Jazz Trio". They have performed successfully throughout Europe and received first prizes at the International Jazzfestivals in Vienna und Zürich.
He has also been a member of the Friedrich Gulda Euro Big Band, Hans Koller Free Sound Big Band, Slide Hamton Big Band and played with Trummy Young, J. J. Johnson, Bill Watrous, Albert Mangelsdorf, Phil Wilson, Fatty George and many more.
In 1983 he was invited as soloist und guest professor to the "International Trombone Meeting" in Nashville, Georgia, U.SA
1984 to the "International Trombone Meeting" in Canberra, Australia. 1985 to the "Academie Internationale de Musique" in Dijon, France. Extensive Radio, Television and recording experience plus numerous concerts as a soloist both in Austria and elsewhere.
Musicians:
Rudi Josel (Trombone), Peter Josel (Keyboards, Bass, Acoustic Piano), Bernhard Locker (Guitar), Thomas Schobel (Drums / Drum programming), Christoph Lauth (Guitar), Uwe Urbanovsky (Bass), Gerald Endstrasser (Drums), Gerhard Messinger (Bass), Rafael Hidalgo (Percussion), Nacho Quixano (Percussion), Dele Jubril (Voice), Ali Thelfa (Voice).
9 Tracks. Produced by Johannes Peter Mair and Peter Josel. Recorded at SBF-STUDIO, Molln, Austria, December 1988 and January 1989.
Price: 16,90 EUR