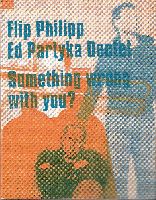 2MORRO Music BSIN02037612
Flip Philipp / Partyka, Ed / Dectet - Something Wrong With You?
The very special compositions of Flip plus very special brass arrangements of Ed! (with Lorenz Raab, Daniel Nösig, Gerald Preinfalk, Raphael Preuscher, Clemens Salesny, Christian Salfellner, Robert Bachner..) Musicians:
Robert Bachner (trombone), Lorenz Raab (trumpet), Daniel Nösig (trumpet), Clemens Salesny (alto sax, bass clarinet), Gerald Preinfalk (alto sax, bass clarinet), Klaus Gesing (sopran sax, bass clarinet), Raphael Preuschl (bass), Christian Salfellner (drums).
Flip Philipp (vibraphone), Ed Partyka (bass trombone, tuba).
10 Tracks. Recordede at Bahnhof Records by Ed T. on June 9/10, 2005.
Price: 17,90 EUR