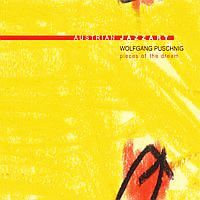 Emarcy BSIN01882769
Puschnig, Wolfgang - Pieces Of The Dream (AJA)
Das Gründungsmitglied des Vienna Art Orchestra, sonst vielfach der lebhafteren Seite des Musizierens zugeneigt, hat auch eine sanfte, der heimatlichen Scholle zugewandte Ader. Für diese exzellente, lyrische Produktion bat Puschnig 1988 neben nationalen Größen wie Pianist Uli Scherer, Hans Koller und Gitarrist Harry Pepl auch internationale Jazzfunkstars wie Hiram Bullock, Jamaaladeen Tacuma und seine spätere Frau Linda Sharrock ins Studio. Österreichischer Folk-Jazz der Extraklasse! (JAZZ ECHO)
Wolfgang Puschnig (synth., sax, flute) ,Linda Sharrock (vocal), Carla Bley (piano), Heiri Kaenzig (bass), Uli Scherer (piano), Charlie Krachler (guitar), Jamaaladeen Tacuma (bass), Hiram Bullock (guitar, synth.), Hans Koller (tenor-sax), Harry Pepl (guitar), Steve Swallow (bass) etc.
Tracklisting:
1. A Long Way From Home
2. Second Heaven
3. In Another Time
4. Far Horizon
5. No. 12
6. Long Gone ("Valosn")
7. I Wish To Be There
8. The 4th Man
9. Fremd bin ich eingezogen
10. Little Suite
11. The Balsam Project
12. Long Remembered
13. It's Quiet Around The Lake
Recorded 1988.
Released 2001.
Price: 19,90 EUR