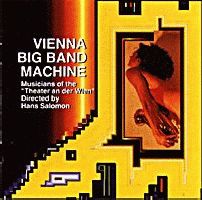 Jive Music BSIN01742607
Vienna Big Band Machine / Salomon, Hans - Modern Big Band Sound
Modern Big Band Sound with "The Vienna Big Band Machine" (Musicians of the "Theater an der Wien" directed by Hans Salomon).
Featuring Andreas Haderer (trumpet), Martin Fuss (sax), Bob Dodge (trombone), Thomas Huber (sax), Karl "Bumi" Fian (trumpet), Heinz Jäger (bass), Walter Grassmann (drums), Toni Mühlhofer (percussion), Rens Newland (guitars), Sascha Otto (sax), Herbert Pichler (piano), Christian Radovan (trombone), Hans Salomon (sax), Robert Schönherr (piano).
Digital recording, February 1991 at the ORF RP4, Vienna.

This CD marks the recording debut of the VIENNA BIG BAND MACHINE.
The group was founded in 1984 by Stephan Mericka and played in and around Vienna for several months. Since Stephan was a manager but not a musician, he asked Hans Salomon to take over as leader. Hans breathed new life into the band, and since then they have played with such jazz greats as Joe Zawinul and Toots Thielemans, among others. Currently, most of the band members are musicians with the "Vereinigten Bühnen Wien".
All of the compositions on this album are original, spotlighting not only the well-known talent of Hans Salomon, but also introducing the talents of several exciting young musicians.
The production was made in co-operation with the ORF (Austrian Broadcasting Corp.), and the band would like to say a special "Thanks!" to Othmar Urban, whose generosity made the whole thing possible.
Tracklisting:
1. Just Another Opener (Hans Salomon) (3:10)
2. What I Prefer (Robert Schönherr) (5:29)
3. King Of Love (words and music by Rens Newland) (4:25)
(featuring Nora Cherry and Rodney Hunter, vocals)
4. Hitting' The Target (Herbert Pichier) (3:30)
5. Say It Straight (words and music by Rens Newland) (3:51)
(featuring Nora Cherry, vocal)
6. Rain On E6 (Thomas Huber) (6:40)
7. Some Years Ago) (Hans Salomon) (4:44)
8. Song For My Son (Hans Salomon) (4:30)
9. One For Cann (Hans Salomon) (3:21)
10. Rumba Del Pueblo (Herbert Pichler and Nicos Jaritz) (3:58)
11. Kar-Funk-El (Christian Skokan) (4:28)
12. Come With Me! (Rens Newland) (3:40)
13. Gettin' The Rhythm! (Rens Newland) (3:35)
14. Latin Touch (Thomas Huber) (4:23)
15. Waiting For Love (Hans Salomon and Vicki Williams) (3:49)
Released 1991.
Price: 17,90 EUR