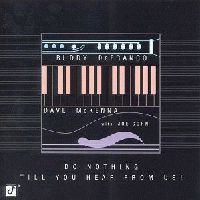 Concord Jazz BSIN01528763
DeFranco, Buddy / McKenna, Dave - Do Nothing Till You Hear From Us!
At 75, Buddy DeFranco still had all of his highly developed dexterity on the clarinet, and he still liked a challenge. So here, he can be heard with just the piano of Dave McKenna and the electric guitar of Joe Cohn in a swing-to-bop-flavored collection of ten standards and two DeFranco originals. A rare combination, to be sure, but one that poses no problems for these sensitive virtuosos, who listen to each other carefully and ground many of the numbers in a solid 4/4 swing foundation. Either McKenna or Cohn provide the bass lines for the rapid numbers; McKenna's contrary-motion lines on DeFranco's rapid snapshot of Charlie Parker, "Skinnin' Rabbits," is remarkably deft.
Ellington and alter ego Strayhorn are right at the center of the album with three consecutive numbers, "Something to Live For," "Do Nothing Till You Hear From Me," and "A Flower Is a Lovesome Thing" (McKenna deceptively opens the latter with Edward MacDowell's "To a Wild Rose"). On the last two tunes, "Gone With the Wind" and "Easy Living," Cohn drops out entirely and McKenna's playing takes on a fuller, more swinging cast in the former tune. (Richard S. Ginell).
Buddy DeFranco (clarinet), Dave McKenna (piano) with Joe Cohn (guitar).
Tracklist:
1. Finegan's Walk
2. Skinnin' Rabbits
3. Lucky To Be Me
4. Out Of Nowhere
5. You And The Night And The Music
6. Something To Live For
7. Do Nothing Till You Hear From Me
8. A Flower Is A Lovesome Thing
9. Speak Low
10. Oh You Crazy Moon
11. Gone With The Wind
12. Easy Living
Recorded 1998.
Released 1999.
Price: 17,90 EUR