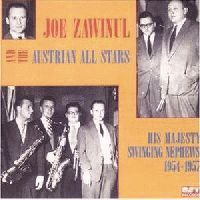 RST BSIN01050384
Zawinul, Joe - Joe Zawinul & The Austrian All Stars (1954 - 1957)
Joe Zawinul And The Austrian All Stars 1954-1957
The story of the AUSTRIAN ALL STARS has its origins in the early fifties when advanced thinking jazz musicians from different bands occasionally met at jam sessions: Joe Zawinul, Karl Drewo, Rudolf Hansen and Viktor Plasil were members of Horst Winter's dance orchestra, Hans Salomon and Attila Zoller were playing with Vera Auer's combo, Willi Fantel, Karl Kowarik and F. R. Hartauer were freelancing musicians. Five of these men (Zawinul, Drewo, Salomon, Hansen and Plasil) formed a working unit in 1954 and entered Vienna's Austrophon-Studio on October 18th to record for Turicaphon's ELITE SPECIAL label. The result of this recording session(There's a small hotel", "Mekka", "Moonlight in Vermont", The way you look tonight") was issued as by the AUSTRIAN ALL STARS and represented the absolutely highest standard of modernjazz played by an entire Austrian group.

In December 1954 the same quintet gave a sensational concert at Vienna's "Konzerthaus" which happily was recorded; the highlights of this matinee are also included here.
Early in 1955 the AUSTRIAN ALL STARS recorded again, this time for EMI Columbia Austria The four titles ('The night has a thousand eyes", "I cover the waterfront", Taking a chance on love", "Ack värmeland du skona") were subsequently issued on the HMV label at 78 RPM only; they never found their way to modern speed records and are extreme rarities. Additionally, the master tapes couldn't be located any more.

About this time, American trumpeter Dick Murphy who had played with Jimmy Dorsey's orchestra and with Hans Koller's combo joined the group. Friedrich Gulda, the well known classical pianist, also liked to work with the ALL STARS and did a series of broadcasts with them in 1955, entitled "Jazz for Connoisseurs". While on tour in the States Gulda played some of these tapes to American Jazz critics who as a consequence gave the ALL STARS a leading place in their annual critics poll (see COOL VIENNA, RST LP 9032932, CD 91527). Finally, band leader Johannes Fehring hired the AUSTRIAN ALL STARS in 1955 to form the nucleus of his new big band. Since the Fehring orchestra usually played for dancing the musical quality of the band increased with the incorporation of the ALL STARS who now contributed modern Jazz arrangements to the band book and also acted a main soloists. By the way, the Fehring orchestra could be heard regularly from May to September at Vienna's "Volksgarten" up to 1965. Joe Zawinul and Karl Drewo left the Fehring orchestra in 1956 and joined Fatty George's popular "Two Sounds Band" but continued played with the ALL STARS occasionally (see RST LP 901956, CD 91417).

The final ALL STARS recording date took place in March 1957 for Friedrich Villi's all-jazz label "Continent Records". Hans Salomon who meanwhile had changed to tenor saxophone was then corresponding with Kenton arranger Bill Holman who as a result of this musical friendship composed "Cheremoya" especially for this session. "Quartett" (by Friedrich Gulda) and Gillespie's bebop runner "A night in Tunesia" completed this last ALL STARS date. At the same occasion the rhythm group (with Jonny Fischer replacing Hansen) recorded three additional titles which were issued as by the JOE ZAWlNUL TRIO; they are included here, too.

During these four years the AUSTRIAN ALL STARS attracted international attention; happily, all members are still alive and well; Karl Drewo is very busy with his alto and often plays with Peter Herbolzheimer's orchestra; he also teaches. Hans Salomon is leading the "Vienna Big Band Machine" (see Jive CD JM 2001-2) and is one of Europe's most employed arrangers. Viktor Plasil, the idealistic and impulsive drummer, is heading a group called "NEW AUSTRIAN ALL STARS" while Rudolf Hansen is teaching particularly at the Vienna Conservatory of Music. Dick Murphy returned to USA in the sixties and is also said to be still active as a musician. Finally, Joe Zawinul gained highest international reputation as a composer and as a member of the legendary groups of Cannonball Adderley and Miles Davis and as a leader of his own "Weather Report" and "Zawinul Syndicate".
16 Tracks: Austrian All Stars
Hans Salomon (as), Karl Drewo (ts), Joe Zawinul (p), Rudolf Hansen (b), Viktor Plasil (dr).
Recorded: Vienna, October 18 – December 5, 1954 & January 1955 & March 21, 1957.
Plus Dick Murphy (tp) added on 2 Tracks, recorded on September 21, 1955.
3 Tracks: Joe Zawinul Trio
Joe Zawinul (p), Johnny Fischer (b), Viktor Plasil (dr).
Recorded: Vienna, March 12, 1957.
Tracklisting:
1. There's a small hotel (2:39)
2. Mekka (2:17)
3. Moonlight in Vermont (2:50)
4. The way you look tonight (3:05)
5. Taps Miller (5:02)
6. Takin' a chance on love (5:10)
7. Mekka (4:28)
8. The night has a thousand eyes (2:45)
9. I cover the waterfront (2:30)
10. Ack Värmeland du skona (Traditional) (3:25)
11. Takin' a chance on love (3:20)
12. Zoot swings (2:53)
13. Bud's jump (2:25)
14. Easy living (2:53)
15. What a difference a day made (3:08)
16. Beat (5:58)
17. Quartett (3:10)
18. Cheremoya (3:13)
19. Night in Tunesia (5:28)
Released 1992.
Price: 13,50 EUR