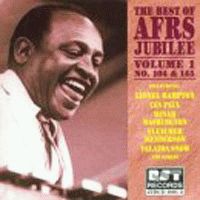 RST BSIN01028501
Various Artists - The Best Of AFRS Jubilee, Vol. 1 (No. 104 & 145)
Our Special offer until January 31, 2020 – only EUR 4,90
(regular price: EUR 9,90)!
2 complete AFRS Jubilies No. 104 & 145 feat. Lionel Hampton, Les Paul, The Town Criers, Dinah Washington, Fletcher Henderson, Valaida Snow, The Gingersnaps, Eddie Green, Ernie Whitman. Recorded on February 24, 1945 & August 27, 1945.
Armed Forces Radio Service, a creation of the American Major Thomas Lewis, was the name of an agency which produced entertainment programs during the Second World War, by order of the government of the United States, for the U.S. soldiers and military employees.
Price: 4,90 EUR