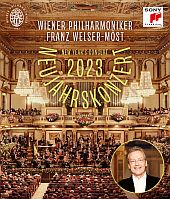 Sony Classical BSIN05451914 (Blu-ray Video)
Welser-Möst, Franz / Wiener Philharmoniker - Neujahrskonzert 2023 / New Year's Concert 2022 (Blu-ray Video)
Composer: Joseph Hellmesberger Jr., Eduard Strauss, Johann Strauss, Jr., Johann Strauss, Sr., Josef Strauss, Franz von Suppe, Carl Michael Ziehrer
There are few concerts in the world that are awaited with as much excitement as the New Year's Concert from Vienna. From the Golden Hall of the Vienna Musikverein the concert played by the Vienna Philharmonic is broadcast to over 90 countries all round the world, reaching an audience of more than 50 million.
The 2023 New Year's Concert will be conducted for the third time by Austrian conductor Franz Welser-Möst. He has already appeared twice on the podium for the New Year's Concert (2011 and 2013) and one time on the podium of the Summer Night's Concert (2010).
For 20 years, Franz Welser-Möst has shaped an unmistakable sound culture as Musical Director of the Cleveland Orchestra. Under his leadership, the orchestra has been repeatedly praised by international critics for ist musical excellence. Through innovative projects and co-operations, young audiences have been continuously approached and consulted and, as a result of these initiatives, the Cleveland Orchestra now has one of the youngest audiences in the USA.
Recordings of the New Year's Concerts are among the most important titles on the classical music market, and Sony Classical is keen to make this release available to the widest possible international audience. The live recording of the 2023 New Year's Concert will be available digitally on January 7, on CD from January 14 as well as on DVD, Blu-ray and Vinyl from January 28 and as a visual album.
Released 2023.
Price: 28,90 EUR