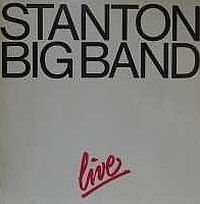 Stanton Records BSIN05316461 (VINYL-LP), (Austrian-Pressung), Zustand: Vinyl: neuwertig, Cover: neuwertig
Stanton Big Band - Live (VINYL-LP)
Stanton Big Band – Live
Personnel: Kurt Grünwald, cl., lead., Christian Plattner Franz Eckerl as, Günther Bruckner, Hartwig Eitler, ts, Gerhard Wessely, bs.
Hubert Havlicek, Heinz Altwirth, Helmut Lustig, Helmut "Jazzy" Grussmann, tp., Helmut "Jazzy" Grussmann, flgh.
Harry "de Coke" Jirsa,Christian Sedlar, Gereon Wolter, tb.
Roland Roger, p., Martin Bayer, g., Michael "Bibi" Libowitzky, b.
Helmut Schneeweiss, dr.
GUESTS:
Martin Wichtl, as. (Side One, 1 + 5)
Herbert Graf, as. (Side One 1 + 5)
Christian Radovan, tb. (Side One, 2)
Ilter Yenison, tb. (Side Two, 2 + 4)
Recorded on 21.2., 21.3., 25.4., 23.5., 27.6.1982 at Soundborn Studios, Wien
Tracklist:
Side 1:
1. It don't mean a thing
2. Stanton Tree
3. Swingin' the Blues
4. Savoy Blues
5. VIP's Boogie
Side 2:
1. House Rent Boogie
2. Saratoga Shout
3. Sent for You Yesterday
4. Basin Street Blues
5. That Rhythm Man
Released 1982.
Price: 19,90 EUR