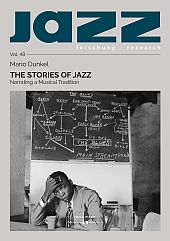 Hollitzer Wissenschaftsverlag BSIN05312029 (Jazzforschung / Jazz Research 48),2021, English, PB, 404 S., Format: 17 x 24 cm
Dunkel, Mario (Bruckner-Haring, Christa, Hrsg. / Doehring, André, Hrsg.) - The Stories of Jazz. Narrating a Musical Tradition
Mario Dunkel: The Stories of Jazz. Narrating a Musical Tradition
herausgegeben von / edited by Christa Bruckner-Haring, André Doehring
The Stories of Jazz
Narrating a Musical Tradition
New Orleans jazz, Dixieland, Chicago jazz, swing, bebop, cool jazz, hard bop, and free jazz: up until today, the history of jazz is told as a "tradition" consisting of fixed components including a succession of jazz styles. How did this construction of music history emerge? What were the alternative perspectives? And why did the narrative of a fixed tradition catch on?
In this study, Mario Dunkel examines narratives of jazz history from the beginnings of jazz until the late 1950s. According to Dunkel, the jazz tradition is simultaneously an attempt to approach historical reality and the product of competition between different narratives and cultural myths. From the middlebrow culture of the 1920s to the New Deal, the African American civil rights movement and the role of the U.S. in the Cold War, Dunkel shows in detail how the jazz tradition, as a global narrative of the twentieth century, is intertwined with greater social and cultural developments.
Content:
Acknowledgments
Introduction
1. "The Art of Rhythm"
Constructing the History of Jazz in the 1910s
2. "Toning It Down"
Middlebrow Modernism and the Narrative of Domestication
3. "Common-Property Music"
Folkloricism and the Narrative of Appropriation
4. "Le swing nègre"
Aestheticizing Hot Jazz
5. "Classing the Jazzics"
Welding, Fusion, and the Power of Transplantation
6. "Something that Really Happened"
Jazz History and the Quest for Realness
7. "War Among the Critics"
Folkloricism, High Modernism, and Anthropology
8. "A Blending of Blends"
The Story of Jazz and the Narrative of Blending
Conclusion
Bibliography

Mario Dunkel holds a PhD in American Studies from TU Dortmund University. Since 2017 he has been assistant professor of music education at Carl von Ossietzky University of Oldenburg. His main research interests include transcultural music education, music and politics, jazz research, and popular music studies.
Price: 70,00 EUR