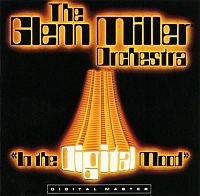 GRP BSIN05255798 (VINYL-LP analog)
The Glenn Miller Orchestra - In The Digital Mood (VINYL-LP analog)
Arranged by Bill Finnegan* (Track A5), Glenn Miller (Tracks: A1, B5), Jerry Gray* (Tracks: A2 to A4, B1 to B4), Ray McKinley (Track: B3)
Larry O'Brien (conductor (2)), Jimmy Maxwell, John Frosk, Markie Markowitz*, Marvin Stamm (trumpets), George Masso, Paul Faulise, Sonny Russo, Wayne Andre (trombones), Morty Lewis, Phil Bodner, Sol Schlinger, Bill Saplin* (saxophones), Walt Levinsky (saxophone, lead clarinet), Bernie Leighton, Dave Grusin (Track B2) (piano), Bucky Pizzarelli (guitar), Jay Leonhart (bass),Ronnie Zito (drums).
Marlene Ver Planck*, Marty Nelson, Mel Torme*, Michael Mark (vocals), Julius LaRosa* (vocal solos)
Tracklist:
Side 1:
1. In The Mood
2. Chattanooga Choo-Choo
3. The American Patrol
4. A String Of Pearls
5. Little Brown Jug
Side 2:
1. Kalamazoo
2. Tuxedo Junction
3. St. Louis Blues March
4. Pennsylvania 6-5000
5. Moonlight Serenade
Released 1983.
Price: 14,90 EUR