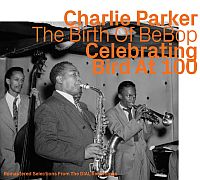 Ezz-thetics BSIN05217849
Parker, Charlie w / Miles Davis, etc. - Celebrating Bird at 100 - Dial Recordings (Selections)
Digipack Edition
Remastered Selections From The "Dial" Sessions
The incomparable life and extraordinary, trailblazing career of jazz titan and influential composer Charlie Parker will be honored throughout 2020 with a worldwide celebration commemorating the 100th anniversary of his birth (August 29, 1920). Lovingly dubbed Bird 100 after the nickname of the preeminent alto saxophonist who was one of the fathers of bebop and progenitors of modern jazz, the centennial will include a host of major initiatives including exciting new music releases, a tribute tour, festivals and events, prestigious exhibitions, special partnerships, a unique graphic novel, exclusive collectible art, and myriad of independent appreciations and concerts. "The centennial of Charlie Parker is a once-in-a-lifetime opportunity to celebrate his life, legacy and art form with the world. We are thrilled to honor Bird's transformative musical impact on past, present and future generations," said the Estate of Charlie Parker.
Personnel & Dates
Charlie Parker on all tracks, with:
On tracks 1-4:
Miles Davis, Lucky Thompson, Arvin Garrison, Dodo Marmarosa, Vic McMillan, Roy Porter
Hollywood, March 28, 1946
On tracks 5-6:
Erroll Garner, Red Callender, Don West
Hollywood, February 19, 1947
On track 7:
Howard McGhee, Wardell Gray, Dodo Marmarosa, Barney Kessel, Red Callender, Don Lamond
Hollywood, February 26, 1947
On tracks 8-13:
Miles Davis, Duke Jordan, Tommy Potter, Max Roach
New York, October 28, 1947
On tracks 14-19:
Miles Davis, Duke Jordan, Tommy Potter, Max Roach
New York, November 4, 1947
On tracks 20-24:
Miles Davis, J.J. Johnson, Duke Jordan, Tommy Potter, Max Roach
New York, December 17, 1947
Tracklist:
1. Moose The Mooche
2. Yardbird Suite
3. Ornithology
4. A Night In Tunisia
5. Bird's Nest
6. Cool Blues
7. Relaxin' At Camarillo
8. Dexterity
9. Bongo Bop
10. Dewey Square
11. The Hymn
12. Bird Of Paradise
13. Embraceable You
14. Bird Feathers
15. Klact-oveeseds-tene
16. Scrapple From The Apple.
17. My Old Flame
18. Out Of Nowhere
19. 19. "Don't Blame Me
20. Drifting On A Reed
21. Quasimodo
22. Charlie's Wig
23. Bongo Beep
24. Crazeology
Released 2020.
Price: 17,90 EUR