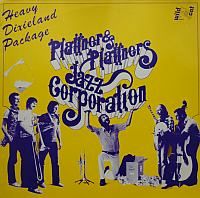 Wildcat BSIN05176853 (VINYL-LP), (Österreichische Pressung), Zustand: Vinyl: neuwertig, Cover: gut erhalten
Plattner & Plattner Jazz Corporation - Heavy Dixieland Package (VINYL-LP)
Helmut Plattner (trumpet and leader), Christian Plattner (clarinet, alto-sax), Bernhard Plattner (trombone), Gereon Wolter (banjo, piano), Peter Bauer (bass), Leslaw Tenczar (drums), Günther Schifter (liner notes)
Tracklist:
Side 1:
1. Mary Had A Little Lamb
2. I Love You Samantha
3. Cherry
4. Dans Les Rues D'Antibes
5. White Cliffs Of Dover
6. Blues My Naughty Sweety
Side 2:
1. Fidgety Feet
2. I've Got A Feeling I'm Falling
3. Someday Sweetheart
4. Beale Street Blues
Ballad Medley
5.1. Misty
5.2. Stars Fall On Alabama
5.3. Do You Know What It Means
6. Lord Lord Lord
Recorded July 9, 10, 11th, 1982 at Soundborn Studio, Wien.
Price: 17,90 EUR