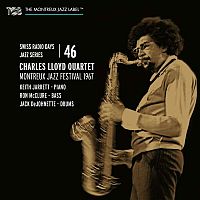 TCB the Montreux Jazz Label BSIN05102894 (2 CD-Set)
Lloyd, Charles / Quartet - Montreux Jazz Festival 1967-Swiss Radio Days Vol. 46 (2 CD-Set)
Swiss Radio Days Jazz Series Vol. 46 / Charles Lloyd Quartet, Montreux Jazz Festival 1967
Charles Lloyd Quartet, Ron Mcclure, Keith Jarrett, Charles Lloyd, Jack DeJohnette,
Tracklist:
CD 1:
1. Days and Nights Waiting (06:39)
2. Lady Gabor (12:03)
3. Sweet Georgia Bright (31:58)
CD 2:
1. Love Ship (09:38)
2. Love Song to a Baby (12:22)
3. Forest Flower (27:36)
Montreux 1967
With Charles, it all started with an autograph…
As we all know, one small moment in a life can have incalculable and unexpected effects... June 18, 1967, thanks to parents who adored Jazz and who certainly would not have missed the arrival of a new festival at their doorstep, I found myself with festival program in hand, prodded along by my father, going up sheepishly and asking for an autograph from this tall and very impressive man by the name of Charles Lloyd. I still remember his reaction: first surprised, then charming, warm, attentive, and... concerned. He took his time and said lots of very nice things to me that although I didn't understand in words, I did with my heart! That day I told myself that Jazz was a very fine music indeed if you met people so vibrant and... cool!
Over the decades, not only has Jazz taken a primordial place in my life, but various encounters along with contacts developed over the decades would have it that almost magically, the different actors of that first edition of the Montreux Jazz Festival have become key people in my life: they are Pierre Grandjean, producer and soundman with Radio Suisse Romande at the time (and my predecessor at my post of Jazz Producer); René Langel, saxophonist (well, well!), journalist and co-founder of the Montreux Jazz Festival alongside Claude Nobs and Géo Voumard; and... Charles Lloyd, musician and bosom buddy with whom I've gotten together more often than one could hope for during more than fifty years of concerts, reunions and memorable feasts!
The scene was set, and it is due to this original "friendship connection" that Dorothy and Charles Lloyd asked me to organize a virtual gathering on behalf of these three "mates" from '67. After long negotiations, the result is the publication of this concert, both historic and influential (for many)! Pierre and René were, as always, faithful to the call of friendship and each are here with their recollections of this unique moment. Because it was truly that, an exceptional musical moment. The saxophonist's quartet, after flamboyant successes in 1966 including the Fillmore in San Francisco (where they were the first Jazz group ever invited), Antibes, and Monterey, where the acclaimed Forest Flower was recorded live (appearing on Atlantic, just like Dream Weaver and Love-In), arrived in Montreux enveloped by an image as intriguing as it was exceptional. It must be said that Charles' group consisted of an alluring rhythmic section overflowing with creativity, since it was made up of three musicians beyond reproach, of which none had yet written their last page in the history of Jazz!
Pianist Keith Jarrett, bassist Ron McClure and drummer Jack DeJohnette dance around the dervish which is Charles Lloyd, augmenting the music of the quartet with all the liberties, all the daring and finally all the craziness that allow the leader to take flight to his improvisational territories of predilection. The music is carnal, expressive as hell itself and knows how to take its time through changing climates like so many steps mounting to a kind of grandiose ecstatic crescendo. And that which strikes one today, listening to this music aged more than five decades, is that it remains totally unwrinkled and that the freedom and freshness it exudes, while being an unmistakable announcement of the upcoming Free Jazz as well as different streams of "spiritual" music, never lose the listener but launches him on a breathtaking journey from which he returns transformed and... bettered! In addition, one also has the impression that the art of each of the four instrumentalists, who have not stopped evolving since then and have all been in their own rights acclaimed and recognized, already contains all the nuggets and qualities of their future productions and projects; without any of them having to be apologetic for the effects of time or the harsh law of changing styles with regard to this legendary Montreux performance.
This music remains as alive and eloquent as it was revealing for many at the time of its creation, and can now be made "public" for the second time - once and for all! Justice is also achieved for the four outstanding musicians, whom I wish to thank very sincerely for their trust.
So now it remains for listeners to discover or rediscover the music of the Charles Lloyd Quartet recorded at the very first Montreux Jazz Festival in 1967!... and they can celebrate, because this voyage is assuredly extraordinary! Yvan Ischer
Radio Producer & musician
Consultant Swiss Radio Days Jazz Series
Released 2019.
Price: 25,90 EUR