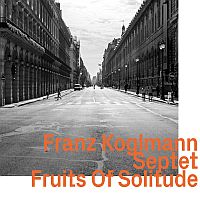 Ezz-thetics BSIN05005390
Koglmann, Franz / Septet - Fruits Of Solitude
Solitude may occur in multiple dimensions, of found time and vacant space, amid layers of perception and reality, embracing Franz Koglmann's long-held philosophy of "precision in melancholy," and enabling a path of discovery. This is one possibility of how those discoveries may sound. Art Lange.
Franz Koglmann (flugelhorn, trumpet), John Clark (french horn), Mario Arcari (oboe, english horn), Daniele D'Agaro (clarinet, bass clarinet, tenor saxophone), Milan Turkovic (bassoon), Attila Pasztor (cello), Peter Herbert (double bass).
Recorded in Vienna, September 8 – 13, 2018.
Tracklist:
1. Fruits of Solitude II
2. Martians don't go
3. For Max
4. Untitled
5. Garden with Blue Terrace
6. Salut Solal!
7. Fruits of Solitude I
8. Finger Snapper
9. Leopard Lady
10. Fruits of Solitude III
11. Yellow Tango
Released 2019.
Price: 17,90 EUR