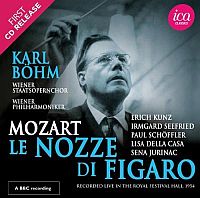 ICA BSIN04923952 (2 CD Set)
Böhm, Karl / Kunz, Erich / Seefried, Irmgard / Della Casa, Lisa / Jurinac, Sena / + - Le Nozze di Figaro (2 CD Set)
Composer: Wolfgang Amadeus Mozart
Wolfgang Amadeus Mozart: Le Nozze di Figaro
Erich Kunz, Irmgard Seefried, Paul Schöffler, Lisa della Casa, Sena Jurinac, Walter Berry, Chor der Wiener Staatsoper, Wiener Philharmoniker, Karl Böhm
This release has been sourced from the Richard Itter archive. The collection is very important for collectors because it has never been released before onto the market. Harold Rosenthal, editor of Opera Magazine, described the staged performance at London's Royal Festival Hall in September 1954 as 'sheer delight' and went on to praise an exceptionally strong Viennese cast, many of whose members had long associations not just with the Vienna State Opera but with the city itself.
Released 2018.
Price: 23,90 EUR