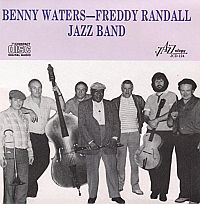 Jazzology BSIN04801795
Waters, Benny / Randall, Freddy / Jazz Band - Benny Waters - Freddy Randall Jazz Band
Benny Waters (clarinet), Freddy Randall (trumpet), Jim Shepard (trombone), Stan Greg (piano), Pa Sealey (banjo and guitar), Tiny Winters (bass), Laurie Chescoe (drums), Mike Durrell (bass).
Tracks 1-4, recorded December 5, 1982, London, England
Tracks 5-9, recorded December 11, 1982, London, England
Tracklist:
1. Way Down Yonder In New Orleans
2. Them There Eyes
3. Sugar
4. Some Of These Days
5. Flooze Blues
6. The World Is Waiting For The Sunrise
7. St. James Infirmary
8. When You're Smiling
9. The Blues My Naughty Sweety Gives To Me
Released 1989.
Price: 19,90 EUR