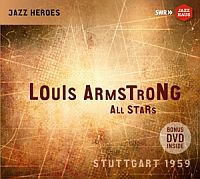 SWR Jazzhaus BSIN04551387 (CD + DVD-Video)
Armstrong, Louis / All Stars - Stuttgart 1959 (CD + DVD-Video)
CD + DVD DE-LUXE DIGIPACK EDITION
AVAILABLE FOR THE FIRST TIME EVER!
This remarkable release presents a concert given by the great Louis Armstrong on February 15, 1959 at the Liederhalle in Stuttgart, Germany. Although portions of this wonderful performance have been circulating on YouTube in low quality, this is the first time that both the complete concert (in audio) and all existing filmed segments from the show (on the DVD) are presented on disc, both taken from the original tapes and, thus, in excellent sound and image quality.
It was a true delight to watch Satchmo in action at the beginning of 1959. It must be noted that shortly after during the same European tour, in June, he suffered a heart attack in Spoleto, Italy, which although in no way diminished his musical capacities – he had yet to offer such gems as his LP with Duke Ellington – did force him to slow down and limit the energy put into each concert.
On this performance you can enjoy Louis at his best, performing some of his perennial classics, but also some lesser known masterpieces, such as "I Get Ideas", the arrangement made for him of the tango "Adiós muchachos", which he had heard during his 1955 South American tour and which, for a short period, entered his concert repertoire.
LOUIS ARMSTRONG (leader, vocal, trumpet), PEANUTS HUCKO (clarinet, vocal), TRUMMY YOUNG ( trombone, vocal), BILLY KYLE ( piano, vocal), MORT HERBERT (bass, vocal), DANNY BARCELONA (drums, vocal), Featuring: VELMA MIDDLETON, (vocal) Live recording of the Louis Armstrong's All Star Concert
February 15, 1959, Liederhalle Stuttgart, Germany
Tracklist:
CD:
1. When It's Sleepy Time Down South
2. Back Home Again in Indiana
3. Basin Street Blues
4. Tiger Rag
5. Now You Has Jazz
6. Perdido
7. The World Is Waiting for the Sunrise
8. I Get Ideas When We Are Dancin'
9. Love Is Just Around the Corner
10. Mack the Knife
11. Stompin' at the Savoy
12. Struttin' With Some Barbecue
13. St. Louis Blues
14. Ko Ko Mo (I Love You So)
15. When the Saints Go Marching In
16. The Faithful Hussar
Total time: 76:31 min.

DVD:
1. Basin Street Blues
2. Tiger Rag
3. Now You Has Jazz
4. I Get Ideas When We Are Dancin'
5. Mack the Knife
6. Stompin' at the Savoy
7. St. Louis Blues
8. When the Saints Go Marching In
9. The Faithful Hussar
Total time: 46:00 min.
Piture format: 16:9 NTSC Sound Format PCM
Region Code: 0 (worldwide)
Released 2016.
Price: 21,90 EUR