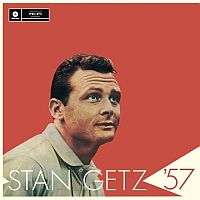 Wax Time BSIN04509560 (VINYL-LP analog)
Getz, Stan - 57 (+ 2 Bonus Tracks (Ltd.Edt 180g Vinyl) Audiophiles Vinyl
Stan Getz (tenor saxophone), Bob Brookmeyer (valve trombone), John Williams (piano), Teddy Kotick (bass), Frank Isola (drums).
Tracklist:
Side 1:
1. Love And The Weather
2. Spring Is Here
3. Pot Luck
4. It Don`T Mean A Thing (Bonus Track)

Side 2:
5. Fascinatin` Rhythm
6. Minor Blues
7. The Varsity Drag (Bonus Track)
All tracks recorded in Los Angeles, California.
Tracks 1, 2, 4, 7: July 27, 1953.
Tracks 5, 6: August 15, 1953
Track 3: August 22, 1953

All of the tracks included here feature a splendid quintet fronted by Stan Getz and Bob Brookmeyer, accompanied by John Williams on piano. The quintet with Brookmeyer, Getz's working band of the period, was booked to play at Zardi's nightclub on Hollywood Boulevard during seven uninterrupted weeks in the summer of 1953. The long engagement would expand the quintet's repertoire, which Norman Granz took advantage of during these sessions. Getz and John Williams (born in 1932 and aged 83 at this writing) would only work together between 1953 and 1955. Williams would later become a famous composer and the author of several Hollywood scores. Getz and Bob Brookmeyer (born in 1929; he died in 2011 at the age of 81) first recorded together in 1952. They would continue playing and recording together sporadically in different contexts throughout the 1950s, '60s and '70s. Their last preserved collaborations consist of concert dates taped in Japan in September of 1981 during an All Star octet tour, which also featured Gerry Mulligan, Freddie Hubbard, Milt Jackson, Sir Roland Hanna, Ray Brown, and Art Blakey. Bassist Teddy Kotick (1928- 1986) joined the Stan Getz Quintet in 1951, right after leaving the Charlie Parker Quintet. Getz and drummer Frank Isola (1925-2004) first recorded together in 1952, when Getz' quintet included yet another ex-Parker member, pianist Duke Jordan, as well as Jimmy Raney, and bassist Bill Crow. Isola would remain with Getz until 1955, and after that they would never record together again.
Released 2015.
Price: 20,90 EUR