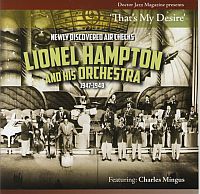 Doctor Jazz BSIN04508175
Hampton, Lionel / And His Orchestra - That's My Desire 1947-1948
LIONEL HAMPTON AND HIS ORCHESTRA – That's My Desire 1947-1948
Tracklist:
A)
1. RED TOP
2. THAT'S MY DESIRE
3. HAWK'S NEST
4. VIBE BOOGIE
5. MUCHACHOS AZUL (BLUE BOY)
6. GOLDWYN STOMP
7. LONELINESS
8. HAMPS GOT A DUKE
9. MIDNIGHT SUN GOLDWYN STOMP #2
10. MINGUS FINGERS
11. OH, LADY BE GOOD
12. RED TOP #2
13. CHIBABA CHIBABA (My Bambino Go To Sleep)
14. ADAM BLEW HIS HAT
15. I'M TELLING YOU SAM
16. PLAYBOY
Bonus track:
17. GIDDY UP
(B)
18. ALWAYS
19. DON'T BLAME ME
20. HOW HIGH THE MOON
21. ADAM BLEW HIS HAT #2

(A) Lionel Hampton and his Orchestra (1947):
Probably: Lionel Hampton (voc, dm, voc, ldr), Wendell Culley, Duke Garrette, Teddy Buckner, Leo Shepherd, Walter Williams (or possibly Snooky Young on some tracks) (tp), James Robinson, Andrew Penn, Jimmy Wormick, Britt Woodman (tb), Jack Kelso(n) (cl, as), Bobby Plater, Ben Kynard (as), Morris Lane, John Sparrow (ts), Charles Fowlkes (bar), Milt Buckner (p), Charles Mingus, (Joe Comfort or Charles Harris may be present) (b) Earl Walker (dm). The Hamptones: Herman McCoy, Wini Brown and Roland Burton (voc).
Air checks, Meadowbrooks, Hollywood, November 1947.

(B) Lionel Hampton and his Orchestra (1948)
Lionel Hampton (ldr, vib), Teddy Buckner, Wendell Culley, Leo Shepherd, Duke Garrette, Jimmy Nottingham (tp), Lester Bass (btp), Britt Woodman, Jimmy Wormick, Sonny Craven (tb), Ben Kynard, Bobby Plater (as), Billy 'Smallwood' Williams, John Sparrow (ts), Charlie Fowlkes (bars), Milt Buckner (p), Wes Montgomery (g), Charles Mingus (& Charles Harris?)(b), Earl Walker (dm), Herman McCoy (voc)
Airchecks, Fairmont, West Virginia, June 29, 1948.

POWER SWING by one of the greatest Legends of jazz: LIONEL HAMPTON
Newly discovered air checks

The Dutch jazz magazine Doctor Jazz Magazine is very proud to present this CD with newly discovered air checks of the Lionel Hampton Orchestra playing live in The Meadowbrook Gardens in Culver City LA, November 1947. In this period the band was musically very creative and a tight musical aggregation. The Hampton band was one of the top jazz bands in business. In this version we hear a young Charles Mingus performing his 'Mingus Fingers'.
We don't know who recorded these acetates, but our 'recording man' was very active at that time (1947-1948). He recorded a lot from the radio and may have had some other sources where he could dub then rare recordings. In 2013 a building contractor worked on an old abandoned Hollywood house in the Hollywood Hills and discovered a storage area that was walled off and filled with several wrapped boxes of acetate records. Among them these Hampton acetates.
They are now carefully restored by Harry Coster and released for the first time.
The CD contains a booklet of 32 pages including photo's and a discography.
A must for every collector.
Released 2014.
Price: 21,90 EUR