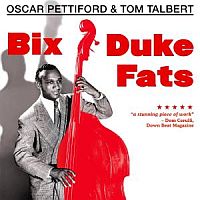 Lone Hill Jazz BSIN04478536
Pettiford, Oscar / Talbert, Tom - Bix, Duke, Fats and More
Bix, Duke, Fats is a stunning piece of work by all concerned. Talbert's writing is fresh & moody, & the performance- particulary the solo work- are first rate"
(Dom Cerulli, Down Beat Magazine (1959) *****)
Tracklist:
1. Clotheline Ballet
2. Keeping Out Of Mischief Now
3. Black & Blue
4. Bond Street
5. Candlelights
6. In A Mist
7. In The Dark
8. Prelude To A Kiss
9. Green Night & Orange Bright
10. Do Nothing Till You Hear From Me/ KO-KO
11. Jack The Bear
12. Tamalpias
13. Swinging Till The Girls Come Home
14. Mood Indigo
15. Chuckles
16. Time On My Hands
17. Not So Sleepy

1-10: BIX, DUKE, FATS; New York, August & September 1956
11-16: BASICALLY DUKE; New York, December, 1954
17. BONUS TRACK; New York, October 1957.

This CD contains the complete tribute albums Bix, Duke, Fats and Basically Duke, which are similar in concept, material, style, format and personnel. With the addition of the bonus track "Not So Sleepy", this release compiles all of Oscar Pettiford's nonet recordings as a leader.
Released 2008.
Price: 19,90 EUR