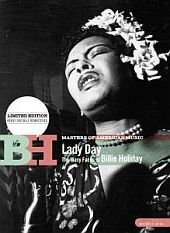 Euroarts BSIN04282143 (DVD-Video)
Holiday, Billie - The Many Faces of Billie Holiday (Masters of American Music) (DVD-Video)
Billie Holiday
Limited Edition in special packaging!
Lady Day – The Many Faces of Billie Holiday invites viewers to see the many faces of this "dark lady of the sonnets," as one poet called her, and to appreciate her undying art more deeply. Most presentations feature Lady Day as the sad victim of hard times and drugs. The single fact of her life that matters above all others is that she was a great artist who, with Louis Armstrong, invented modern jazz singing. Mining a treasure-trove of completely new information, the producers set the record straight – and beautifully. In a voice that is Billie-like in its rasping wiseness and its ring, stage and screen star, Ruby Dee, reads from Holiday's autobiography, Lady Sings the Blues. With Carmen McRae, Annie Ross, Buck Clayton, Harry "Sweets" Edison, Mal Waldron, Milt Gabler Albert Murray and others.

Masters of American Music is an award-winning television series – as entertaining as it is educational and memorable – that celebrate a pantheon of the greatest innovators in Jazz. Individual programmes trace the lives and works of master musicians who defined the course of America's classical music. From its birth in New Orleans, to swing, the big bands, bebop, free Jazz and beyond – all of it is explored with sensitivity and in unique depth. Over 80 interviews were filmed in the making of the series. Featured artists come to life through these interviews, exciting rare performances, period footage and vintage photographs meticulously reproduced. Both the video and audio content has been restored and remastered in accordance with state-of-the-art specifications.
AWARDS:
1994 – Cable ACE Award: Best Documentary Cultural or Performing Arts Special
Picture format DVD: NTSC 4:3, Sounds formats DVD: PCM Mono 2.0, Region code: 0, Languages: English, German, French, Booklet notes: English.
Running time: 59 mins.
Audience: all
FSK: 0.
Released 2009.
Price: 19,90 EUR