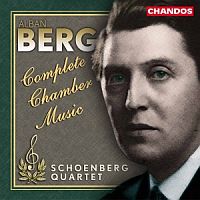 Chandos BSIN04268016
Schoenberg Quartet / Van der Meer - Complete Chamber Music / Kammermusik (Komplett)
Composer: Alban Berg
Alban Berg (1885-1935) - CHAMBER MUSIC Complete
This disc of Berg's complete output for chamber music was originally issued by Chandos in 2001, as part of the Schoenberg Quartet's traversal of all the chamber music written by the Second Viennese School. It included many rarities and arrangements – here, for instance, is the only currently available recording of Berg's own transcription of the last of his early and passionate Altenberg-Lieder for a quartet of piano, harmonium, violin and cello, made for performance at an influential private musical society, established by Schoenberg in 1900 in order to play and promote the revolutionary music of himself, his friends and associates, away from the catcalls of the conservative Viennese public.
This disc contains some of the most heartfelt and openly passionate music from a musical school often regarded as forbidding and abstract.
"The Lyric Suite is among the crowning works of modern quartet literature, and the Schoenberg Quartet has the measure of its diverse moods and twin-track trajectory of increasing dynamism and emotional intensity." Gramophone
Reissued at budget price
Tracklisting:
STRING QUARTET Op. 3 (1909-1910)
1. Langsam (10:18)
2. Mässige Viertel (10:59)
3. Hier ist Friede, Op. 4 No. 5 (1912),from "Altenberg Lieder", arranged for piano,harmonium, violin an… (4:34)
FOUR PIECES Op. 5 (1913), for clarinet and piano, arranged for viola and piano by Henk Guittart
4. Mässig (1:28)
5. Sehr langsam (2:08)
6. Sehr rasch (1:19)
7. Langsam (3:05)
8. ADAGIO, second movement from the Chamber Concerto for piano, violin and 13 wind instruments (13:13)
LYRIC SUITE (1925-26) for string quartet
9. Allegretto giovale (3:08)
10. Andante amoroso (6:15)
11. Allegro misterioso-Trio estatico (3:24)
12. Adagio appassionato (5:54)
13. Presto delirando-Tenebroso (4:32)
14. Largo desolato (5:24)

Schoenberg Quartet:
Janneke van der Meer (violin), Wim de Jong (violin), Henk Guittart (viola), Viola de Hoog (cello)
Plus Pierre Woudenberg (clarinet), Bob Zimmerman (harmonium), Sepp Grotenhuis (piano)
Released 2008.
Price: 19,50 EUR