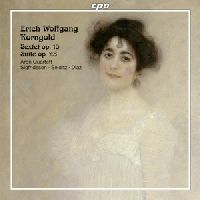 CPO BSIN04143643
Aron Quartett / Sigfridsson / Selditz - Sextet for Strings op.10; Suite op.23
Composer: Erich Wolfgang Korngold
Tracklist:
1. Thomas Selditz, Marius Diaz, Aron Quartett
Sextett für Streicher D-Dur op. 10 (Erich Wolfgang Korngold)
1.1. 1. Moderato – Allegro (09:35)
2.2. 2. Adagio (09:17)
3.3. 3. Intermezzo (07:05)
4.4. 4. Finale: Presto (07:10)
5. Henri Sigfridsson, Aron Quartett
Suite für Klavier, 2 Violinen und Violoncello op. 23 (Erich Wolfgang Korngold)
5.1. 1. Präludium (08:32)
6.2. 2. Walzer (05:57)
7.3. 3. Groteske (08:32)
8.4. 4. Lied (03:35)
9.5. 5. Rondo - Finale: Variationen (08:23)

Orchestral Chamber Music II
The Aron Quartet enjoyed well-deserved success with its cpo recording of the Korngold String Quartets, in which the four musicians "strikingly bring the scores' enormous wealth of colours and gestures to life and light." (FonoForum 01 / 10).
Now the quartet (with guests) applies itself to more chamber works by Korngold, where the composer again shows himself free of stylistic or intellectual restraints. Using a wide variety of scorings, the composer seeks to surmount formal barriers and reach the utmost limits of structure and expression. He found in chamber music the inner peace that he needed after completing major works – a relaxation, not to say a cleansing, which clearly showed that his mastery of music for the opera stage and the movie screen was matched by his skill in the creation of more intimate works.
The two works recorded here – the String Sextet in D major op. 10 and the Suite op. 23 – are highly individual examples of Korngold's innovative approach to chamber music. The Sextet is the work of a wunderkind – or rather, of a wondrous youth, already being compared with the young Mozart and Mendelssohn on account of his compositions' artistic maturity. The Suite, on the other hand, directly followed Korngold's most ambitious opera, Das Wunder der Heliane, which he completed in his early thirties.

Reviews:
The Viennese musicians of the Aron Quartet give it their all, helped by a full-bodied recording that faithfully reflects the work s changing textures. The waltzing third movement is particularly engaging. 4 **** (BBC Music Magazine, Geoff Brown)
Released 2013.
Price: 14,90 EUR