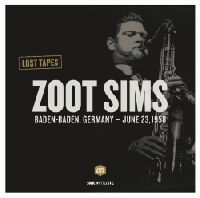 Jazzhaus S BSIN04054726 (Vinyl-LP analog)
Sims, Zoot - Lost Tapes, SWR Archiv 1958 (Vinyl-LP analog)
The precise origin of cool jazz is a contentious issue. Some point to 21 January 1949, the day Miles Davis, Gerry Mulligan and Gil Evans completed the first three recording sessions with the Capitol Orchestra for Birth of The Cool. For others, cool jazz began back in the 1930s with Lester Young. And if not that far back, then at the latest with the tenor saxes of the Four Brothers school, as a counter-movement and complement to the pure bebop doctrine of Charlie Parker and his accomplices. And it was Jimmy Giuffre who, with the Woody Herman Orchestra in 1947, sought to rediscover the laid-back sound of Lester Young with his composition that gave the Four Brothers their name and his cultured, ultra-sophisticated tone.
On closer inspection, as is so often the way in jazz, the reality is more likely a tale of personalities and chance encounters that gave rise to a new "style", a way of playing, a mainstream and a tributary in development. Not that jazz musicians themselves ever thought of it this way: they just played what they felt emanating from the depths of the soul.
Recorded on 23 June 1958 at UKO, the Südwestfunk-owned radio studio in Baden-Baden, Germany, the concert is just such an emanation. Initiated by Joachim-Ernst Berendt, jazz editor and spiritus rector of the jazz scene in post-war Germany, the concert sets up an encounter between Hans Koller, the "coolest" European tenor sax of the day, and Zoot Sims, one of the preceptors of the Four Brothers style and, like Giuffre, a former member of Woody Herman's band.
In 1958 Sims was with Benny Goodman in Europe and played at Expo '58 in Brussels, where he met the Viennese-born Hans Koller, who was living in Baden-Baden at the time. Two years earlier Sims had made a Blue Note recording with the German pianist Jutta Hipp and he was now eager to further his acquaintances with European jazz musicians. After successful appearances with Al Cohn, he was already well accustomed to two-sax playing and eagerly accepted Koller's invitation to perform in Baden-Baden. So Berendt immediately set up a studio concert with the two and invited a number of other jazz greats along. These included Helmut Brandt, who hailed from the Kurt Edelhagen Band and whose baritone could almost be mistaken for that of Gerry Mulligan; Hans Hammerschmid, also from the Kurt Edelhagen Band and whose coolly energetic keyboard skills were reminiscent of Wynton Kelly; Peter Trunk, a talented German bass player; and finally Kenny Clarke on drums, who had quit the Modern Jazz Quartet in 1956 and moved to Paris.
What you get with Zoot Sims in Baden-Baden, recorded on 23 June 1958, is a single jam session in which each number features a different line-up and instrumentation: Sims and Koller on tenor sax get in the frame with "All The Things You Are", before switching to clarinet for Hammerschmid's composition "Minor Meeting For Two Clarinets" – a reference to Lester Young's love of the instrument. Then, simply sublime, Zoot Sims' rendition of "Tangerine". Koller's reply is "Fallin' In Love" – elegant and nimble, played like a young Stan Getz on his way to Brazil.
"Blue Night" (featuring a six-piece horn section) is one of the highlights of the concert, a number which beguilingly alternates between big band and ensemble jazz. One can almost feel the musicians cautiously shedding their big band backgrounds, before once again being eased elegantly back into the ensemble. The same goes for "Open Door", in which Kenny Clarke's heartbeat urges the ensemble gently but inexorably onwards with every bar, and the alto of Zoot Sims briefly opens the door to allow the sound of the day – bebop – to flood the studio. "Blue Night" presents both traditions and new departures in one: Lester Young is omnipresent and one can feel the imprint of Woody Herman, Stan Kenton and – yes! – even Benny Goodman. And yet every piece and every solo focuses on individuality and personal expression.
We owe a debt of gratitude to Berendt, the concert's initiator, the man behind the scenes who engineered the entire event. Baden-Baden had long been a top venue on the European jazz scene – a status that made such spontaneous concerts featuring star musicians at all conceivable.
This concert lay long forgotten and lost to jazz enthusiasts. A pressing issued in 1988 was flawed and of relatively poor quality. That alone was reason enough for allowing Zoot Sims, Hans Koller, Hans Hammerschmid, Peter Trunk, Kenny Clarke and the others one more opportunity to be heard, to be seen and to abide.
Tracklist:
Side 1:
1. All the things you are (04:48)
2. Minor meeting for two clarinets 06:40)
3. Blue night (05:47)
4. Open door (04:17)

Side 2:
5. Fallin' in love (04.10)
6. I surrender dear (03:56)
7. Tangerine (03:39)
8. I'll remember April (08:56)
Released 2012.
Price: 26,90 EUR