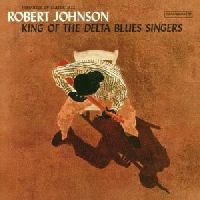 Columbia BSIN04039491
Johnson, Robert - King Of The Delta Blues Singers
Robert Johnson - King Of The Delta Blues Singers
Reading about the power inherent in Robert Johnson's music is one thing, but actually experiencing it is another matter entirely. The official 1998 edition of the original 1961 album was certainly worth the wait, remastered off the best quality original 78s available, of far superior quality to any of the source materials used on even the 1991 box set. Johnson's guitar takes on a fullness never heard on previous reissues, and except for a nagging hiss in spots on "Terraplane Blues" (the equalization on this disc is extreme, to even sport some minute turntable rumble in the low end), this really brings his music alive. If there is such a thing as a greatest-hits package available on Johnson, this landmark album, which jump-started the whole '60s blues revival, would certainly be the one. The majority of Johnson's best-known tunes, the ones that made the legend, are all aboard: "Crossroads," "Walkin' Blues," "Me & the Devil Blues," "Come On In My Kitchen," and the apocalyptic visions contained in "Hellhound On My Trail" are the blues at its finest, the lyrics sheer poetry. And making its first appearance anywhere is a newly discovered (in 1998) alternate take of "Traveling Riverside Blues" that's appended to the original 16-track lineup. If you are starting your blues collection from the ground up, be sure to make this your very first purchase. (Cub Koda)
Tracklist:
1. Cross Road Blues (02:31)
2. Terraplane Blues (03:03)
3. Come On In My Kitchen (02:53)
4. Walking Blues (02:32)
5. Last Fair Deal Gone Down (02:40)
6. 32-20 Blues (02:52)
7. Kindhearted Woman Blues (02:52)
8. If I Had Possession Over Judgement Day (02:37)
9. Preaching Blues (02:53)
10. When You Got A Good Friend (02:40)
11. Rambling On My Mind (Alternate Version) (02:53)
12. Stones In My Passway (02:30)
13. Traveling Riverside Blues (02:48)
14. Milkcow's Calf Blues (02:19)
15. Me And The Devil Blues (02:36)
16. Hellhound On My Trail (02:40)
17. Traveling Riverside Blues (02:39)
Released 1999.
Price: 14,90 EUR