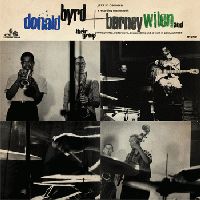 Sonorama BSIN04013176 (Vinyl-LP analog)
Byrd, Donald / Wilen, Barney - Jazz In Camera (Vinyl-LP analog)
Donald Byrd + Barney Wilen – Jazz In Camera
Unreleased soundtrack album of an aborted film project, produced 1958 by Sandro Bocola and Dennis Bailey in Paris. Excellent hard bop and modern jazz session feat. Donald Byrd (tr), Barney Wilen (ts), Jimmy Gourley (g), Walter Davis (p), Doug Watkins (b) and Al Levitt (dr). Transferred and mastered from unique transcription discs (acetates), recently discovered in the estate of Barney Wilen. Lost "nouvelle vague" soundtrack with a combination of true jazz legends, finally released after more than 50 years, including original session photos by the producers.
All music by Byrd/ Wilen/ Gourley/ Davis/ Watkins/ Levitt, including improvisations based on motives from the theme of "a night in tunisia" by Dizzy Gillespie.
Tracklist:
Side 1:
1. Jazz in Camera - Bande I (7:28)
2. Jazz in Camera - Bande II (4:20)
3. Jazz in Camera - Bande III (4:37)

Side 2:
1. Jazz in Camera - Bande IV (8:02)
2. Jazz in Camera - Bande V (3:58)
3. Jazz in Camera - Bande VI (6:24)
Released 2012.
Sandro Bocola: about the soundtrack Jazz in Camera
Paris in the late fifties had become the Mecca of modern jazz. Among other international stars such as Lester Young, Bud Powell, Kenny Clarke, Zoot Sims, Stan Getz, Chet Baker, Oscar Pettiford, Art Blakey and the Jazz Messengers played in jazz clubs such as the Chat qui pèche, the Club Saint Germain and the Blue Note. Miles Davis recorded the soundtracks for several films in Paris with musicians like Barney Wilen, and Duke Ellington performed in the city with his "Famous Orchestra".
Shortly after the start of a multi-year sojourn in Paris, I designed the project of an avantgarde jazz film in 1958 together with my friend Dennis Bailey, as a modern version of the legendary short film Jamming the Blues with Lester Young, with a group of musicians in a recording studio who produced a record. We had planned to first record the soundtrack. Then the musicians should be filmed in a studio with multiple cameras, as they repeat their original sound recording in a kind of playback. The resulting footage was then alienated in colour, as rhythmic montage cut to the original soundtrack.
After I had found a sponsor in one of my clients, who would finance the project, I put a little band together with the help of my friend Barney Wilen, which ultimately included the musicians Donald Byrd (tp), Walter Davis (p) Jimmy Gourley (g ), Al Levitt (dr), Doug Watkins (b) and Barney Wilen (ts). Boris Vian, who held a senior position at the record company Phillips, provided the recording studio where we met the musicians in July 1958 for the recording of the soundtrack. It should start with a quick piece, followed by a slow blues, and eventually followed by another quick piece, A Night in Tunisia.
After several test runs, during which we made a series of preparatory photographs, the soundtrack of the planned film was recorded. Now we could start with the first shooting for which we had won the famous cameraman Raoul Coutard. Unfortunately, the unexpected bankruptcy of the sponsor François Peyron finished our project. The laboratory, whose bills we could not afford to pay, refused to deliver us the previously developed film material and the musicians turned back to their own affairs. The only thing we had were the shellac records of the soundtrack, of which Dennis and I kept one copy to listen to them from time to time for our pleasure.
As Patrick Wilen worked up the musical legacy of his late father this year, he came across the soundtrack of the aborted project Jazz in camera at my place, which he, after more than fifty years, now makes accessible to the public for the first time on this CD and LP in collaboration with the Berlin based label Sonorama Records.
Sandro Bocola
Zurich, October 2011.
Price: 26,90 EUR