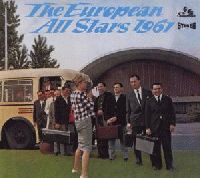 Sonorama BSIN03992401
European All Stars, The - The European All Stars - 1961
First reissue of a sadly forgotten European jazz LP with thirteen leading musicians from twelve countries, recorded 1961 at the Kongresshalle in Berlin and produced by Joachim-Ernst Berendt. Stunning modern jazz concert with R. Ross (bs), A. Mangelsdorff (tb), H. Koller (ts), A. Domnerus (as), Sadi (vib), F. Cerri (g), M. Solal (p), T. Montoliu (p), D. Goykovich (tp), M. Falay (tp), E. Amundsen (b), W. Schiöpffe (dr) and even a vocal track sung by M. Zetterlund - compositions by Mingus, Monk, Sadi, M. Solal and F. Boland, original 1:1 cover artwork and liner notes...
Recorded in Stereo on May 21,1961 at the Kongresshalle, Berlin
The European All Stars:
Hans Koller (Austria/ tenor saxophone), Arne Domnerus (Sweden/ alto saxophone), Ronnie Ross (England/ baritone saxophone), Albert Mangelsdorff (FR of Germany/ trombone), Dusko Goykovich (Yugoslavia/ trumpet), Mufay Falay (Turkey/ trumpet), Tete Montoliu (Spain/ piano), Martial Solal (France/ piano), Franco Cerri (Italy/ guitar), Sadi (Belgium/ vibraphone), Erik Amundsen (Norway/ bass), William Schiöpffe (Denmark/ drums) & Monica Zetterlund (Sweden/ vocals on track 6 only)
Tracklist:
1. Haitian' Fightsong (03:45)
2. Gone with the wind (06:28)
3. Hittin' the blues (05:59)
4. Blue monk (05:31)
5. Avertissez-moi (03:12)
6. Am I blue (03:42)
7. That old devil love (05:23)
8. 3+3 (06:37)
9. High notes (04:00)
Released 2012.
Price: 19,90 EUR