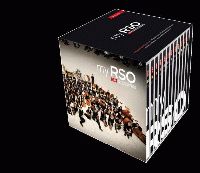 ORF BSIN03921212 (24 CD-Set)
RSO Wien - My RSO (Box) (24 CD-Set)
RSO WIEN / CD
My RSO (Box) (24 CD-Set)
"Mein RSO"
This 24 CD set will appear in November 2012. It is a musical adventure trip through the Classics, narrated by the RSO Vienna.
We start out with Beethoven's "Pastorale" and Antonin Dvorak's "From the New World", continue to Modest Mussorgskij's "Pictures at an Exhibition", Leos Janacek's "Sinfonietta", Maurice Ravel's "Bolero", and via George Gershwin's "Rhapsody in Blue", Sergei Prokofiev's "Peter and the Wolf", Richard Strauss's "Till Eulenspiegel", and Claude Debussy's "La Mer" we return to the present.
The conductors are Leonard Bernstein, Michael Gielen, Friedrich Cerha, Peter Eötvös, Sylvain Cambreling, Manfred Honeck, David Oistrach and many more, as well as all the principal conductors of the orchestra's history: Milan Horvat, Lothar Zagrosek, Pinchas Steinberg, Dennis Russell Davies, Bertrand de Billy and Cornelius Meister.
Our team of moderators, Elke Tschaikner of Radio Austria 1 and Christian Scheib, head of the RSO Vienna, present the works by means of an imaginative moderation (in German) and thus bring these musical adventures to life - additional information can be found in the accompanying programme booklet in German and English.
This box contains 12 double CDs in jewel cases with comprehensive liner notes.
Price: 149,00 EUR