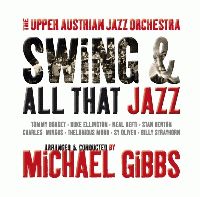 ATS BSIN03871352
Upper Austrian Jazz Orchestra, The - Swing & All That Jazz
The Upper Austrian Jazz Orchestra feat. Michael Gibbs
SWING & ALL THAT JAZZ! … Arranged and conducted by MICHAEL GIBBS
Nach einer nun ca. 80-jährigen Entwicklung der Big-Band-Musik verwandelte einer der herausragendsten Jazzorchesterkomponisten und -arrangeure die Musik von Duke Ellington, Billy Strayhorn, Benny Goodman, Ella Fitzgerald, Thelonious Monk, Billie Holiday, Frank Sinatra, Stan Kenton, Tommy Dorsey, Sy Oliver, Neal Hefti und Charles Mingus in ein anspruchsvolles und zeitgemäßes Konzertereignis.
Michael Gibbs, Grandseigneur, Komponist und Arrangeur aus England, der im Verlaufseiner Karriere mit Stars wie Pat Metheny, John McLaughlin, John Scofield, Michael Mantler, Mike Stern, Joni Mitchell, Whitney Houston, Carla Bley, Gary Burton, Laurie Anderson und Peter Gabriel zusammenarbeitete, ist es ein Anliegen, Klassiker der Big-Band-Ära mit modern ausgerichteten Jazzorchestern neu zu präsentieren.
Die Musik der bekanntesten Big Band-Leader und Interpreten der Jazzgeschichte, die respektvoll angebrachten Kunstgriffe des meisterhaften Arrangeurs Michael Gibbs und ein experimentierfreudiger Klangkörper wie das Upper Austrian Jazz Orchestra wollen mit dieser Einspielung ein eindrucksvolles Klang- und Hörerlebnis vermitteln.

"We had a good time some years back - both with the public, and amongst ourselves - revisiting the music of Glenn Miller, so decided to expand that experience with a revisiting of other music of the swing period - including the music of the Basie, Ellington, Benny Goodman, Woody Herman, Harry James, Thad Jones bands and others. And a few pieces just outside that period. Looking back - the big band experience has expanded and developed in vast array of styles since the 30's and 40's - but a nostalgia for the earlier music remains for many - hence this endeavour to relive some of that formative period. It's for the pure fun of it - hope you enjoy it!"
-Michael Gibbs
Tracklist:
1. Hank cinq (5:25)
2. Star crossed lovers (3:50)
3. I thought about you (3:43)
4. Better git it in your soul (8:46)
5. Here's that rain day (4:25)
6. Ask me now (6:27)
7. Evidence (4:49)
8. Daydream (4:24)
9. Invitation (7:19)
10. Opus one (3:32)
11. The song is you (3:11)
12. It's only a paper moon (4:01)
13. You got to my head (3:44)
14. The kid from Red Bank (2:36)
Released 2012.
Price: 18,50 EUR