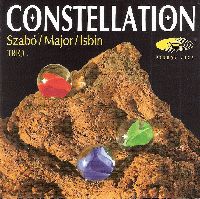 Pannon Jazz BSIN03826478
Szabo, Sandor / Major, Balazs / Isbin, Gilbert - Constellation
Sándor Szabó (16 string guitar, voice), Gilbert Isbin (classical guitar), Balázs Major (percussions).
Tracklisting:
This recording made on 22nd of May 1991 in the VRT Flagey Studio 6. in Brussels/Belgium.
1. Dark Green (Isbin/Szabó/Major) (5:21)
2. Constellation (Isbin/Szabó/Major) (11:02)
3. Simple Pleasure (Isbin) (4:26)
4. Irresistible Desire (Szabó) (7:26)
5. Cute Movements (Isbin/Marquez) (5:54)
6. Metaphorically (Szabó) (9:22)
7. Wawacou (Isbin) (4:38)
8. Shady Valley (Szabó) (6:49)
Released 2005.
Made in the early 1990's, this recording it is the result of a musical collaboration between Hungarian guitarist Sandor Szabó and his Belgian counterpart, Gilbert Isbin. The impulse for making a recording together came during a joined tour with Hungarian percussionist Balázs Major, which offered an opportunity for working with the VRT Belgian Radio. We give a special thanks to Marc Van Den Hoof, who invited the trio for the recording, and who has believed in this music for more than 13 years.
Among the many elements that make this recording so special is the fact that it was recorded in one take, with no editing or post-production enhancement. Very rarely does such a magical moment exist, when all the circumstances are perfect and stand in a constellation with each other.
The magic that happened on stage is reflected in the title of the album. Although the two guitarists played in different styles, they were able to meet at a crossroads, creating enduring art. Many factors-including the tapes being lost for some time--contributed to the delay ofthis album's release.
Ultimately though, the recordings were found and other difficulties were overcome, and we can now release this music. We would like to thank Gilbert Isbin's work in organizing the recording and his help in locating the master tapes. We also thank Jos Demol for his encouragement and for organizing the concert. Last but not least, we thank Sandor Szabó, who not only left his magical touch in the music, but also re-mastered the recording. We are very pleased to share these great moments of magic with the listener.
Geza Gabor Simon, Pannon Jazz.
Price: 13,90 EUR