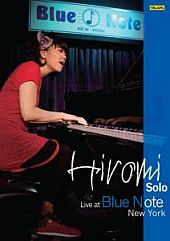 Telarc BSIN03674405 (DVD-Video)
Hiromi - Solo Live At Blue Note New York (DVD-Video)
Hiromi Uehara has electrified audiences throughout the U.S., Europe, Asia and elsewhere with concerts that push the limits of piano jazz to new frontiers of compositional and technical skills.
Featuring a mix of tracks – primarily from her critically-acclaimed solo release, Place To Be – the pianist-composer chronicles the almost mystical exchange between performer and audience on her latest DVD, Hiromi Solo Live at Blue Note New York, set for release on Telarc International, a division of Concord Music Group.
Heralded as one of the brightest new lights on the piano jazz landscape, Hiromi's performance spotlights her boundless talent, energy and artistic vision. Recorded live on August 20 and 21, 2010, at the Blue Note in New York City, the DVD includes 11 originals and a special bonus feature with interview clips and performance footage from some of Hiromi's favorite cities around the world.
Tracklisting:
1. BQE (10:10)
2. Sicilian Blue (9:56)
3. Choux a la Créme (8:59)
4. Green Tea Farm (11:20)
5. Cape Cod Chips (10:50)
6. Old Castle, By the River, In the Middle of a Forest (10:11)
7. Pachelbel's Canon (8:18)
8. Viva! Vegas - Show City, Show Girl (5:13)
9. Viva! Vegas - Daytime in Vegas (3:55)
10. Viva! Vegas - The Gambler (8:26)
11. Place to Be 7:58)
Sprache: Englisch, Bildseitenformat: 4:3 - 1.33:1, FSK: Ohne Altersbeschränkung, Gesamtspielzeit: 125 min.
Released 2011.
Price: 19,90 EUR