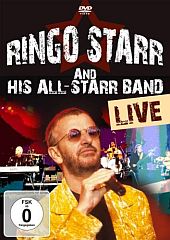 Zyx BSIN03640057 (DVD-Video)
Starr, Ringo / And His All-Starr Band - Live (DVD-Video)
Die erste All-Starr Tour von 1989 !! Rock 'n' Roll und jede Menge Musikerlegenden !!!
Es fing an mit einem unwiderstehlichen Angebot. Ringo Starr formierte seine erste All Starr Band, indem er 1989 bei seinen Freunden anrief und sie fragte, ob sie nicht Lust auf ein bisschen Spaß hätten: das Ergebnis? Ein seltenes Zusammentreffen von Rock'n'Roll - Legenden auf einer Bühne, die einige der größten Rock-Klassiker spielen und eine tolle Stimmung verbreiten. Das Experiment erwies sich als so erfolgreich, so dass Ringo die Tradition fortsetzte, jedes Mal mit neuen Mitgliedern, um es immer wieder neu und aufregend zu gestalten.
Hier ist das erste Original aus dem Jahre 1989. Ein Muss für alle echten Fans des Rock'n'Roll! Allstar Band:
Joe Walsh (guitar, vocals), Nils Lofgren (guitar,accordion, vocals), Dr. John (keyboards, vocals), Billy Preston (keyboards, vocals), Rick Danko (bass, vocals), Levon Helm (drums, vocals), Jim Keltner (drums), Clarence Clemons (saxophone, vocals), Garth Hudson (accordion) (two concerts)
Tracklisting:
1. It Don't Come Easy
2. No No Song
3. Yellow Submarine
4. Iko Iko
5. The Weight
6. Will It Go Round In Circles
7. Act Naturaly
8. Honey Don't
9. Youre A Friend Of Mine
10. The Shape I'm In
11. I Wanna Be Your Man
12. Life In The Fast Lane
13. Up On Cripple Creek
14. Boys
15. Bein' Angry Is A Full Time Job
16. Right Place, Wrong Time
17. Quarter To There
18. Rocky Mountain Way
19. Photograph
20. With A little Help From My Friends
Format: Dolby, PAL
Sprache: Englisch (Dolby Digital 2.0)
Region: Alle Regionen
Released 2010.
Price: 9,90 EUR