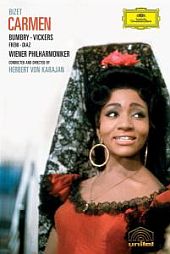 DG BSIN03535351 (DVD-Video)
Karajan / WP / Bumbry / Vickers / Freni / Diaz / Miljakovic / + - Carmen (GA) (DVD-Video)
Composer: Georges Bizet
This famous film of te world's best-loved opera, directed by Herbert von Karajan, features the three greatest exponents of their respective roles at the time:
Grace Bumbry's magnificently seductive-toned Carmen, Mirella Freni's ineffably lovely, touching Micaela, and Jon Vickers' thrilling manic-depressive Don José - "overwhelming in its truthfulness to the tragic visions of Carmen", wrote the distinguished critic David Cairns.
Carmen - Grace Bumbry
Don José - Jon Vickers
Micaela - Mirella Freni
Escamillo - Justino Diaz
Frasquita - Olivera Miljakovic
Mercédès - Julia Hamari
Moralès - Robert Kerns
Zuniga - Anton Diakov
Dancaire - Kurt Equiluz
Remendado - Milen Paunov
Mariemma & Ballet de Espana
Wiener Staatsopernchor
Chorleiter: Walter Hagen-Groll
Wiener Philharmoniker Leitung: Herbert von Karajan
Bühnen-Regie: Herbert von Karajan

Picture Format: NTSC, Colour, 4:3, Region Code 0 (worldwide), Sound Formats: PCM Stereo DTS 5.1, Menu language: English, Subtitles: French (Orig. language), English, German, Spanish, Chinese
Total time: 163 min.
FSK: Freigegeben ab 6 Jahren
Released 2005.
Price: 31,50 EUR