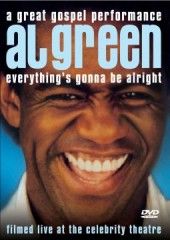 Delta BSIN03150875 (DVD-Video)
Green, Al - Everything's Gonna Be Alright (DVD-Video)
Filmed live at the celebrity theatre.
AI Green has been a singing sensation for four decades. First he conquered the world of soul, but the latter part of his career has been devoted to his faith. As the Reverend AI Green, founder of the Full Gospel Tabernacle Church in Memphis, he has become one of the world's best-loved and most well-known Gospel singers, and his accomplishments include winning seven Grammy Awards for his Gospel recordings. Most important, however, is the way Reverend Green delivers the message of God with true and enthralling conviction. His phenomenal live shows bare a soul burning with the Spirit of the Lord.
This performance, captured live at the Celebrity Theater in Anaheim, CA, presents one of Rev. AI Green's most uplifting and driving performances. Backed by a scintillating group of musicians and singers, he soars through a repertoire including L.OVE., In the Holy Name of Jesus, Everything's Gonna Be Alright, Amazing Grace, Jesus Will Fix It, Mighty Cloud of Joy, I Must Tell Jesus (performed with the LA Mass Choir), The Lord Will Make a Way, In the Garden of Prayer.
PAL, Region 0, Colour, Approx. Running Time: 55 min.
Released 2006.
Price: 16,90 EUR