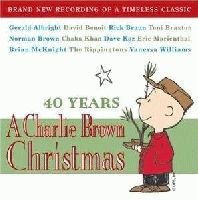 Concord BSIN03018469
Various Artists - 40 Years - A Charlie Brown Christmas
GOOD GRIEF! It's the 40th anniversary of A Charlie Brown Christmas. In 1965 the first-ever Peanuts animated special was aired, beginning an indelible holiday tradition enjoyed around the world by fans of all ages. Now, 40 years later, Peak Records is paying tribute to this incomparable piece of entertainment history with an anniversary collection featuring top contemporary artists and beloved holiday songs celebrating the music of Vince Guaraldi, Peanuts cartoonist/creator Charles Schulz, and an American icon—Charlie Brown.

This festive album of brand-new recordings of the timeless holiday classics from A Charlie Brown Christmas boasts an all-star lineup with some of the great pop and jazz artists of our time, including: Toni Braxton, David Benoit, Vanessa Williams, Dave Koz, Chaka Khan, The Rippingtons, Brian McKnight, Norman Brown, Rick Braun, Eric Marienthal, and Gerald Albright.
As a bonus, additional newly-recorded holiday tracks include: a brand-new song written by David Benoit and Lee Mendelson specifically for this project, sung by Vanessa Williams; a grooving cover of the classic Peanuts song "Red Baron," performed by The Rippingtons; and a mesmerizing performance of the holiday favorite "It's the Most Wonderful Time of the Year" by Toni Braxton. Be a part of this exciting celebration as we pay tribute to 40 years of the Peanuts Gang and A Charlie Brown Christmas.
Tracklisting:
1. Christmas Is Coming
2. Just Like Me
3. Linus And Lucy
4. It's The Most Wonderful Time Of The Year
5. My Little Drum
6. Skating
7. Christmas Is Here
8. O Tannenbaum
9. Red Baron
10. The Christmas Song
11. Für Elise
12. Christmas Time Is Here (Reprise)
Released 2005.
Price: 9,90 EUR