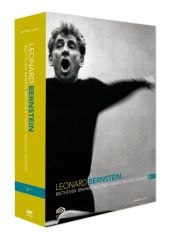 Euro Arts BSIN02959468 (5 DVD-Video)
Bernstein, Leonard - The Anniversary Edition (5 DVD-Video)
Composer: Johannes Brahms, Ludwig van Beethoven, Anton Bruckner, Cesar Franck, Darius Milhaud, Wolfgang Amadeus Mozart
Leonard Bernstein Anniversary Box
5 DVDs with material not released on DVD before
June Anderson (soprano), Sarah Walker (mezzo-soprano), Klaus König (tenor), Jan-Hendrik Rootering (bass )
Israel Philharmonic Orchestra; Orchestre National de France; Wiener Philharmoniker; Symphonieorchester des Bayerischen Rundfunks
Leonard Bernstein
The Anniversary DVD Edition (5 Discs). Endorsed by the Leonard Bernstein Estate. There has probably never been a conductor able to combine the highest musical standards with personal warmth in the way that Leonard Bernstein did. Bernstein not only had at his command a rare musicality that melded emotion with analysis, he was also uniquely able to convey that musicality both as a musician and as a teacher. The present boxed set brings together outstanding video recordings that allow us to see and hear the intensity and the thrilling, emotional way in which Bernstein communicated his interpretations to his musicians and to his public. The result is a magnificent tribute to this brilliant conductor on what would have been his 90th birthday.
REPERTOIRE:
Johannes Brahms: Symphonies Nos.1&3
Cesar Franck: Symphony in D minor
Darius Milhaud : La Création du monde - Le Boeuf sur le toit
Wolfgang Amadeus Mozart: Piano Concerto No.17, K.453, Symphony No.39
Ludwig van Beethoven: Symphony No.9 - Ode to Freedom
Anton Bruckner: Symphony No.9
Tonformat: PCM-STEREO DD 5.1, DTS 5.1, Bildformat: 16:9,
Untertitel: DE / ENG / FRA / SPA , Dauer: 6 Stunden 59 Minuten.
Released 2008.
Price: 42,90 EUR