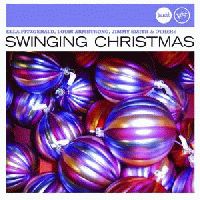 Verve BSIN02691886
Various Artists - Swinging Christmas (Jazz Club)
Tracklisting:
1. White Christmas (Berlin, Irving) (Smith, Jimmy)
2. The Christmas Song (Tormé, Mel)
3. Rudolph The Red-Nosed Reindeer (Fitzgerald, Ella)
4. Have Yourself A Merry Little Christmas (Burrell, Kenny)
5. A Christmas Toast (Crosby, Bing)
6. Frosty The Snowman (McBride, Christian)
7. You're All I Want For Christmas (Benton, Brook)
8. Here Comes Santa Claus (Ramsey Lewis Trio)
9. Sleigh Ride (Jack Jones)
10. Let It Snow! Let It Snow! Let It Snow! (Les Brown)
11. Zat You, Santa Claus? (Armstrong, Louis)
12. Swingle Jingle (Hampton, Lionel) (Hampton, Lionel)
13. Santa Claus Is Comin'to Town (Newton, Wayne)
14. Ring Those Christmas Bells (Lee, Peggy)
15. Blue Christmas (Eckstine, Billy)
16. Silent Night (Mohr, Joseph) (Washington, Dinah)
17. Christmas Waltz (Styne, Jule) (Williams, Joe)
18. A Child Is Born (Jones, Thad) (Lincoln, Abbey)
Recorded 1950-1996.
Released 2007.
Price: 6,50 EUR