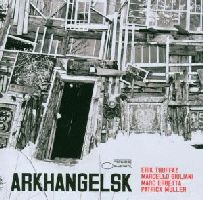 Blue Note BSIN02502695
Truffaz, Erik - Arkhangelsk
Erik Truffaz – Arkhangelsk
Arkhangelsk is a Russian city located 900 km north of Moscow, by the White sea. Winters there are very cold. The frosts over there are earth splitting. The ground contracts, tears, cracks, disembowels, swells, relaxes ... And the old wooden buildings float on this, all askew. We have played several times in this city.
One morning, after spending the night in a club on the 3rd floor of a surburbian building, we went out to get some fresh air and, amazed, stunned, we discovered a comic-book scene, with crooked houses as far as the eye could see! A whole landscape as though shaken by the night that it had just been through. The first reaction was to wonder whether we were not ourselves a little shaken after a few vodkas. But we surrendered to the reality of this strange vision.
Then, it was between two recording sessions for this CD that I discovered, at the Art Brut Museum of Lausanne, the works of anarchitect Richard Greaves, and this, thanks to the work of photographer Maria Del Curto. Greaves lives 2 hours away from Quebec in a huge forest. Its huts defy the laws of gravity. Built without measuring instruments and today without screws nor nails, with salvaged materials assembled only by nylon ropes, they seem to defy the laws of balance.
Our music is similar to these wild buildings. Little things of sound born out of chaos and bound by an invisible cord, it also takes us beyond what we see.
I still wonder whether Richard Greaves did not also pass through this city on the edge of the White sea, one beautiful cold morning, after a night storm of wood and star crashes. To build this daydream in his own eyes.
Erik Truffaz / Joel Bastard, traduit par David Monnier.

Erik Truffaz (Trompette), Marcello Giuliani (Baby bass, electric bass), Marc Erbetta (Batterie, percussions), Patrick Muller (Fender Rhodes, orgue Hammond, piano), Ed Harcourt (Voix), Nya (Voix), Christophe (Voix).
Tracklisting:
1. Miss Kaba (05:47)
3. Trippin' The Lovelight Fantastic (04:41)
4. Snake Charmer Man (05:19)
5. Nobody Puts Baby In The Corner (03:11)
6. Les nuits de Monsieur Naj (06:10)
7. Arkhangelsk (03:39)
8. L`un dans l´autre (05:49
9. Akiko (05:28)
10 Entre le ciel et l´eau (03:13)
Enregistré par Benoit Corboz, en décembre 2006, au Studio du Flon, Lausanne, Suisse.
Price: 18,90 EUR