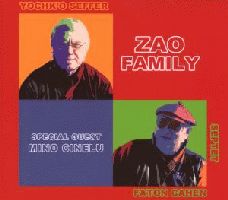 Cristal BSIN02358655
Cahen, Faton / Seffer, Yochko / Septet - Zao Family
The saxophonist Yochk'o Seffer and the pianist François « Faton » Cahen met within MAGMA. In 1973, they founded ZAO, as legendary as the precedent one. After 4 albums, in 1976, Yochk'o decided to go playing his own music within NEFFESH MUSIC. As far as Faton is concerned, he performed piano solo, duet and trio (with Didier Lockwood, Miroslav Vitous,…), and he also created the group FATON.
At the end of the 70's, ZAO collaborated with a string quartet: MARGAND. In this new album, which claims its affiliation to ZAO, Yochk'o and Faton called on a string quartet again, the quartet ARLEQUIN (violins, viola, cello). They also have been supported in this project by two percussionists, friends of ever, Mino Cinélu and François Causse (Gong, Khaled). With this fusion on the borders of jazz, contemporary and traditional music (Hungarian), they carry on – with the same energy and enthusiasm that they had when they started – with painting the picture started 30 years ago, in which one patch of colours, masses in fusion mix up… Full of nuances and violent mixing.
Musicians:
Faton Cahen (piano), Yochk'o Seffer (saxophones, tarogato), François Causse (batterie), Mino Cinelu (percussions), Aude Miller (violon), Roland Arnassalon (violon), Jean-Philippe Bardon (alto), Marie Gremillard (violoncelle).
9 Tracks.
Price: 21,90 EUR