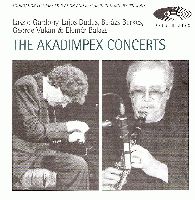 Pannon Jazz BSIN02316274
Gardony, Laszlo / Dudas, Lajos / Berkes, Balazs / Vukan, George / Balazs, Elemer - The Akadimpex Concerts
One of the most significant sponsors of contemporary jazz life by now in Hungary, the company Akadimpex started out by support the publication of The Book Of Hungarian Jazz in 1992. Experiencing its good reception, the company went on to support exclusive jazz concerts and the three past Hungarian Meetings for Jazz Research in the west-Hungarian town of Tata.
Supporting the release of George Vukans Dunapalola Ragtime (Hotelinfo-Ferdinandus 2001) in 1993, Hungarian Rag by the Bohem Ragtime Jazz Band (Tandem-Ferdinandus TR-HSJR 2004) in 1994, and Quant je suis mis au retour ... by the AT Ensemble Pannon Jazz PJ 1005) in 1995 both financially and morally, was a very significant factor in founding the Hungarian Society for Jazz Research and the Foundation for Jazz Education and Research in Hungary.
The fourth CD in this series, The Akadimpex Concerts, was taped at a number of live concerts supported by Akadimpex. The current CD contains previously unreleased material in full length.
The first two tracks are from a concert partly documented earlier on Fly Bird by Elemer Balazs (Pannon Jazz PJ 1008), Forever by Balazs Berkes (Pannon Jazz PJ 1016). Both records have included footage of the 1995 Tata concert of the Creative Art ,Jazz Trio, now you can hear the encores.
Appearing in a four-leg public concert series in Hungary for the first time after long decades, Hungarian clarinet player and teacher Lajos Dudas. living in the German city of Neuss, gave a duo concert with double bass player Balazs Berkes. The full concert can by enjoyed on the current release. Hopefully, the background noise would not distort the attention of the listener in enjoying the inspired music-making of the two artists.
Another Hungarian musician living abroad, pianist Laszlo Gardony gave his first concert back home in years honouring the invitation of Akadimpex. Most of that recording is planned to be released at a later date. The closing track of the CD gives you a taste of that concert, nevertheless, it shows you how Berklee School of Music (Boston) staff member Gardony plays Mahalia at this concert. The track is taken from a video-clip, also recorded at that concert, and has already received a lot of air time on US TV stations
9 Tracks. Recorded Live in Hungary 6th January 1994, 13th June 1995, 17th October 1995.
Price: 13,90 EUR