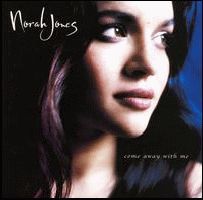 Blue Note BSIN02183868 (Vinyl-LP analog)
Jones, Norah - Come Away With Me
Norah Jones's debut on Blue Note is a mellow, acoustic pop affair with soul and country overtones, immaculately produced by the great Arif Mardin. (It's pretty much an open secret that the 22-year-old vocalist and pianist is the daughter of Ravi Shankar.) Jones is not quite a jazz singer, but she is joined by some highly regarded jazz talent: guitarists Adam Levy, Adam Rogers, Tony Scherr, Bill Frisell, and Kevin Breit; drummers Brian Blade, Dan Rieser, and Kenny Wolleson; organist Sam Yahel; accordionist Rob Burger; and violinist Jenny Scheinman. Her regular guitarist and bassist, Jesse Harris and Lee Alexander, respectively, play on every track and also serve as the chief songwriters. Both have a gift for melody, simple yet elegant progressions, and evocative lyrics. (Harris made an intriguing guest appearance on Seamus Blake's Stranger Things Have Happened.) Jones, for her part, wrote the title track and the pretty but slightly restless "Nightingale." She also includes convincing readings of Hank Williams's "Cold Cold Heart," J.D. Loudermilk's "Turn Me On," and Hoagy Carmichael's "The Nearness of You." There's a touch of Rickie Lee Jones in Jones's voice, a touch of Bonnie Raitt in the arrangements; her youth and her piano skills could lead one to call her an Alicia Keys for grown-ups. While the mood of this record stagnates after a few songs, it does give a strong indication of Jones' alluring talents. (David R. Adler)
Billboard:
Finds elements of country, soul, jazz, blues, folk, and pop coalescing into one gorgeous whole.
Musicians:
Norah Jones (Piano, Electric Piano, Vocals), Brian Blade (Percussion, Drums), Bill Frisell (Electric Guitar), Dan Rieser (Drums), Adam Rogers (Guitar), Tony Scherr (Acoustic Guitar, Slide Guitar), Kevin Breit (Acoustic Guitar, Electric Guitar, national steel guitar), Kenny Wollesen (Drums), Jesse Harris (Acoustic Guitar, Electric Guitar), Rob Burger (Accordion, Pump Organ), Sam Yahel (Hammond Organ), Lee Alexander (Bass), Jenny Scheinman (Violin), Adam Levy (Acoustic Guitar, Electric Guitar).
14 Tracks. 2002.
Price: 19,90 EUR