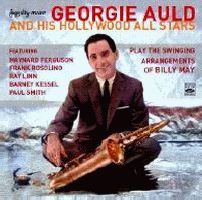 Fresh Sound BSIN02123482
Auld, Georgie - Georgie Auld And His Hollywood All Stars
The sides at hand were recorded in 1955 and 1956, the days when you fought to fill a week with work so that you could afford good men and carefully planned record dates. The arrangements were written in the straight swinging tradition with more than a touch of the great Jimmie Lunceford band. All you can say is that it is written in a fool-proof style that could hardly fail to swing,. The musicians were the cream of the Hollywood crop, and the band is as clean and as exciting as anything of its kind heard at the time. In any case, dancers should find it nearly self-propelling while listeners get glimpses of trumpeter Ray Linn, trombonist Frank Rosolino, high sounds from Maynard Ferguson within the trumpet section and a great deal of Georgie Auld on tenor. From the opening bars of "They Can't Take That Away From Me" to the last notes of "Sweet Lorraine," this collection spells warmth and joy and boldness.
Featuring Conrad Gozzo, Maynard Ferguson, Ray Linn, Vito Mangano, Si Zentner, Frank Rosolino, Tommy Pederson, Skeets Herfurt, Gus Bivona, Babe Russin, Bob Dawes, Paul Smith, Barney Kessel, Joe Comfort, Irving Cottler, among others....
22 Tracks. Hollywood, September 30, 1955.
Price: 14,90 EUR